Aimee Phan
From Wikivietlit
Aimee Phan (1977) is a Vietnamese American fiction writer.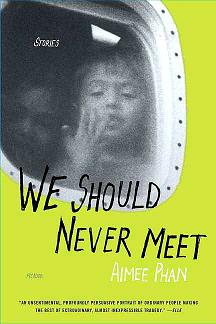 She was born and raised in Orange County, California. She graduated from UCLA with a BA in English and a minor in Asian American Studies, and earned her MFA from the Iowa Writers' Workshop, where she won a Maytag Fellowship. In 2010 her writing has appeared in The New York Times, Colorado Review, Chelsea, Prairie Schooner, and Meridian.
From 2005-7 she was Assistant Professor in English at Washington State University, where she taught creative writing and Asian American literature. In 2010 she is Assistant Professor in the graduate Writing program and chair of Writing and Literature at California College of the Arts, where her husband the poet Matt Shears, author of Where a road had been (BlazVox, 2010?) also teaches.
Her first book, We Should Never Meet, was named a Notable Book by the Kiryama Prize in fiction and a finalist for the 2005 Asian American Literary Awards. She won the National Endowment for the Arts (NEA) 2010 Literature Fellowship in Creative Writing.
Hai-Dang Phan started this entry.
Aimee Phan online