Andrew Lam
From Wikivietlit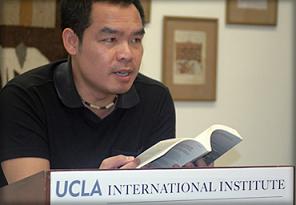 Andrew Lam
(1964) is a fiction writer and essayist, writing in English.
He was born in Dalat, left Viet Nam in 1975, and lives in San Francisco. The son of General Lâm Quang Thi of the Army of the Republic of Vietnam, he attended the University of California, Berkeley. He is the editor of the Pacific News Service, a co-founder of New California Media, a regular commentator on National Public Radio's All Things Considered, and his essays, often on Vietnam-related issues, have appeared in dozens of newspapers and magazines across the country, including the New York Times, the Los Angeles Times, the San Francisco Chronicle, the Baltimore Sun, the Atlanta Journal, the Chicago Tribune, Mother Jones, The Nation, and Earth Island Journal. He is also the author of the book Perfume Dreams.
Linh Dinh started this entry.
Andrew Lam online