Bao Phi
From Wikivietlit
Bao Phi, real name Thien-Bao Phi, is an slam poet.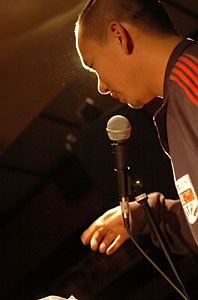 Born in Saigon, he left Vietnam in April 1975 and grew up in the Phillips neighborhood of South Minneapolis. A graduate of Macalester College, he has performed at numerous venues and schools, including the Nuyorican Poet's Café. He has twice won the Minnesota Grand Poetry Slam, and also won two poetry slams at the Nuyorican Poets Café in New York. He remains the only Vietnamese American man to have appeared on HBO's Russell Simmons Presents Def Poetry, and the National Poetry Slam Individual Finalists Stage, where he placed 6th overall out of over 250 national slam poets.
He is the author of a chapbook, Surviving the Translation, and two CDs, Flares and Refugeography. His work has appeared in various literary magazines, journals, and anthologies, including From Both Sides Now: The Vietnam WAr and Its Aftermath in Poetry (Scribner, 1998), The Def Poetry Jam Anthology (Three Rivers, 2001), Legacy to Liberation: Writings from Revolutionary Asian America (Bid Red Media, 2000), and Screaming Monkeys: Critiques of Asian American Images (Coffeehouse, 2003). One of his poems appeared in Minneapolis/St. Paul city buses in the Poetry in Motion program. His poem, "Race," originally published in Michigan Quarterly Review's special issue Viet Nam: Beyond the Frame (Winter, 2005), was selected by Billy Collins for Best American Poetry 2006.
He currently works as a program associate at the Loft Literary Center where he curates and operates EQUILIBRIUM, a spoken word series featuring artists of color.
Hai-Dang Phan started this entry.
Bao Phi online