Cong Huyen Ton Nu Nha Trang
From Wikivietlit
(Nguyễn Phước)
Công Huyền Tôn Nữ Nha Trang
is a researcher and novelist who publishes poetry as
Thanh Nhung
and holds copyrights as Nha Trang Pensinger. Her name recites a lineage that goes back through the Nguyễn dynasty to the emperor Minh Mạng.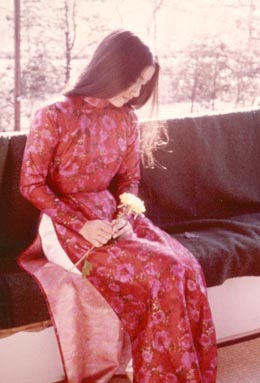 She is co-author of the novel The Moon of Hoa Binh (Foundation Autopoy, 1994) with her husband William L. Pensinger, known as Larry, and sole author of the essays Fragments from Memory.
Her doctoral thesis, The Traditional Roles of Women as Reflected in Oral and Written Vietnamese Literature (University of California, Berkeley, 1973) developed a broad perspective on both life and literature which she has since applied in specific studies. One presentation readily available on the web bears on specific novels by Hoàng Ngọc Phách and Khái Hưng, while her broad vision illuminates particulars in versification, the role of woman, and history of literature as a social movement.
As a Vietnamese college student visiting the United States from Japan in 1965, she awoke from a concussion after a car accident speaking only Japanese. Friends helped her re-learn both English and Vietnamese, as well as to recognize her own face. Family wrote her hundreds of letters to re-acquaint her with her own past. It is a story that captures the dislocations and reintegrations that mark the expressive work and the sympathetic understanding of this scholar poet.
Dan Duffy started this entry with review by Công Huyền Tôn Nữ Nha Trang.
Cong Huyen Ton Nu Nha Trang Online