Dang Tien
From Wikivietlit
Đặng Tiến
(1940) is a critic and essayist.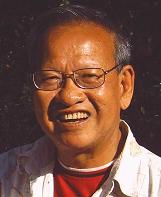 He was born in Danang, went to France to study in 1966, where he remained until today, living in Paris. Before 1975, he published literary criticism in South Vietnam, including one book Vũ trụ thơ, a study of Nguyễn Du, Bà huyện Thanh Quan, Tản Đà, Hàn Mặc Tử and Đinh Hùng (Saigon: Giao Điểm, 1972).
Linh Dinh started this entry.
Đặng Tiến online