Dao Strom
From Wikivietlit
Dao Strom
(1973) is a Vietnamese American fiction writer, living in Austin, Texas.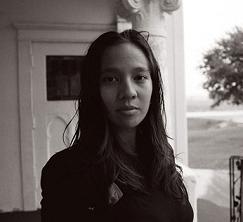 Born in Saigon, she fled Vietnam with her mother; her father stayed behind and was later sent to reeducation camps. Strom grew up in the Sierra Nevada foothills with her mother and stepfather. She is a graduate of the Iowa Writers Workshop, and has won a Literature Fellowship from the National Endowment for the Arts, a James Michener fellowship and the Chicago Tribune/Nelson Algren Award. Her stories have appeared in the anthologies Still Wild, edited by Larry McMurtry, and Watermark: Contemporary Vietnamese American Poetry & Prose. She is the author of a novel, Grass Roof, Tin Roof (Mariner, 2003) and a collection of stories, The Gentle Order of Girls and Boys (Counterpoint Press, 2006).
She is also a folk singer whose CD, "Send Me Home" earned praise by the Austin Chronicle: "Dao Strom sings a lonely song for the entire world to hear and her wanderlust makes for a beautiful album that endears you from the start… making you feel the pillow against her cheek, hear the freeway through her half-cracked windows. She's a storyteller, and a damn good one."
Asked by an interviewer, "Where is home?", she answered:
I have been asked this question several times, and there have been assumptions that home is Vietnam, where I was born, or that home is some place with pine trees and cold mountain rivers, because of the frequent mention of such places in my songs. The best explanation I can find for the idea of home as it appears in the songs on "Send Me Home," and in the song itself, comes from a Buddhist parable I have read about a woman, a Buddhist nun, who is traveling and she is very tired and hungry when she comes to this town, but when she asks no one there will give her shelter for the night, as they are opposed to her religion or are afraid of being associated with her because of it. So she finds a place to sleep out in the woods somewhere. It is cold, and she wakes in the middle of the night to see the full moon shining through the tree branches above her. She realizes that had she been given shelter for the night she would not either have received this vision of the moon, which is very lonely and beautiful. And she is grateful then at having been turned away by the people in the town.
Not that I am always seeking to be cast on the outside of things, just that maybe there is a sort of 'out there' feeling I'm more familiar with than I am with any defined concept of home.
Hai-Dang Phan started this entry.
Dao Strom