Marc Leepson
From Wikivietlit
Marc Leepson
(1945) is a journalist, critic and historian. Drafted in July 1967, he served as personnel management clerk from December 1967 to December 1968 with the U.S. Army's 527th Personnel Services Company in Qui Nhon, Republic of Viet Nam.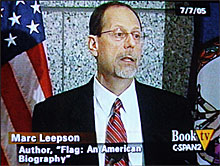 He has reviewed books, films, plays, music and other arts dealing with the Viet Nam War and American veterans, extending to the work of Vietnamese artists dealing with the war, for The VVA Veteran, the magazine of the Viet Nam Veterans of America, since 1986. He reviews as well for magazines such as Smithsonian and Vietnam and newspapers such as The Washington Post, The New York Times Book Review, Chicago Tribune, New York Newsday, The Wall Street Journal, and USA Today.
Both his "Arts of War" blog for The VVA Veteran (since April 2008), and his Webster's New World Dictionary of the Vietnam War (1998) cover Vietnamese as well as American writers.
Leepson earned his B.A. in history before military service and returned to George Washington University for his M.A., then wrote on the staff of the Congressional Quarterly before setting up as author. He has taught U.S. history as an adjunct professor at Lord Fairfax Community College. Other interests include history of United States nationalism, in Flag: An American Biography (2005) and historic preservation, in Saving Monticello (2001).
Dan Duffy started this entry with review from Marc Leepson.
Marc Leepson online