Nam Cao
From Wikivietlit
Nam Cao
(1915-1951), real name Trần Hữu Trí, was a fiction writer, playwright and poet, as well as an educator and author of a memoir.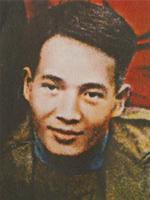 He was born in Hà Nam, went to Nam Định at age 10 to study, got sick and had to return home before graduating from high school. He married at age 18, then took a train to Saigon a few months later to become a secretary for a tailor. In 1936, he published his first stories and poems.
Returning North that year, he obtained his high school degree, taught at a private school in Hanoi until it was requisitioned by the invading Japanese Army in 1940, forcing him to go to Thái Bình, where he continued to teach. One of his five children died of hunger during the Japanese occupation.
He joined the Vietminh resistance movement in 1943, then the Communist Party in 1948. He wrote about himself, "He was not suitable for the gun or the sword, so he would have to fight with the pen." In 1951, he was caught by the French in Ninh Bình and executed.
Nam Cao's 1941 short story,"Chí Phèo", is one of the most celebrated in Vietnamese literature, with its eponymous character an emblem for a type of hapless, desperate, downtrodden yet deeply human individual.
Linh Dinh started this entry.
Works
Truyện người hàng xóm, novel (1944)
Đôi lứa xứng đôi, stories (1941)
Nửa đêm, stories (1944)
Cười, stories (1946)
Ở rừng, memoir (1948)
Văn Tân Địa dư các nước Châu Âu, on the geography of Europe (1948)
Địa dư các nước châu Á, châu Phi, on the geography of Asia and Africa (1949)
Địa dư Việt Nam, on the geography of Vietnam (1951)
"Đóng góp," play (1951)
Sống mòn, novel (1956)
Chí Phèo, stories (1957)
Truyện ngắn Nam Cao, selected stories (1960)
Một đám cưới, stories (1963)
Tác phẩm Nam Cao, selected works (1964)
Nam Cao tác phẩm, selected works (volume I: 1976; volume II: 1977)
Tuyển tập Nam Cao, selected works (volume I: 1987; volume II: 1993)
Những cánh hoa tàn, stories (1988)
Nam Cao truyện ngắn tuyển chọn, selected stories (1995)
Nam Cao truyện ngắn chọn lọc, selected stories (1996)
The manuscripts of four more novels, Cái bát, Một đời người, Cái miếu and Ngày lụt, are now lost.
Nam Cao online