Nha Ca
From Wikivietlit
Nhã Ca
(1939), real name Trần Thị Thu Vân, is a popular and prolific fiction writer and poet.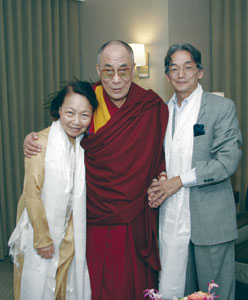 Born in Huế, she was married to the poet Trần Dạ Từ and was the founder of the publishing house Thương yêu. She was "the most strident voice in South Vietnam in her indictment of the communist atrocities" (Nguyễn, 165), with such works as Đêm nghe tiếng đại-bác [At night I hear the cannons], Tình-ca cho Huế đổ-nát [Love song for rubbled Hue], and Giải khăn sô cho Huế [Mourning turban for Huế]. After 1975, she was the only South Vietnamese female writer among 10 black-listed as "cultural guerrillas" by the Communist regime, and was imprisoned from 1976-1977. Her husband was jailed for 12 years. In 1989, a year after he was released from prison, the couple and their family received political asylum from the Swedish government, but later moved to the US and now live in Southern California, where they founded the popular newsaper Việt Báo.
A story of hers, translated into English by James Banerian, is included in the anthology, Vietnamese Short Stories: An Introduction (Phoenix: Sphinx 1985).
Hai-Dang Phan started this entry.
Works before 1975
Nhã Ca mới (1965), winner of South Vietnam's National Prize for poetry
Đêm nghe tiếng đại bác (1966)
Đêm dậy thì, novel (1967)
Bóng tối thời con gái (1967)
Khi bước xưống (1967)
Người tình ngoài mặt trận (1967)
Sống một ngày (1967)
Xuân thì (1967)
Những giọt nắng vàng (1968)
Đoàn nữ binh mùa thu (1969)
Giải khăn sô cho Huế (1969), winner of South Vietnam's National Literary Prize
Một mai khi hòa bình (1969)
Mùa trên cây sầu đông (1969)
Phượng hoàng (1969)
Tình ca cho Huế đổ nát (1969)
Dạ khúc bên kia phố (1970)
Tình ca trong lửa đỏ (1970)
Đời ca hát (1971)
Lặn về phía mặt trời (1971)
Trưa áo trắng (1972)
Tòa bin-đing bỏ không (1973)
Bước khẽ tới người thương (1974)
Works after 1975
Đường Tự Do, a four-volume novel, each 640 pages (Wesminster: Việt Báo, 2006)
References
Nguyễn Đình Hòa. Vietnamese Literature: a Brief Survey (San Diego State University Press, 1994).
Võ Phiến. Literature in South Vietnam, 1954-1975 (Melbourne: Vietnamese Language & Culture Publications, 1992).
Nhã Ca online