Phan Khoi
From Wikivietlit
Phan Khôi
(1887-1959) was a scholar, critic, poet, fiction writer, essayist and journalist.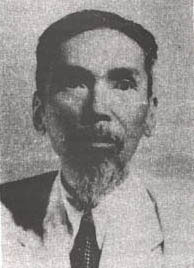 He was born in Quảng Nam and died in Hanoi, but first came to fame as a journalist and writer in Saigon. He was active in numerous literary debates in that city from the late 1920s through the 1930s, on topics as diverse as the character of Confucianism and the status of women. He also developed a reputation as a literary critic and a poet. He published under many pseudonyms, including Tú Sơn, from the French "Tout Seul," "All Alone." Phan Khôi belongs to that generation of intellectuals who were equally versed in Chinese and French literatures, as well as an emerging one written in Quốc Ngữ (the romanized alphabet), a development they themselves willed into being. Other prominent members of this group include Phạm Quỳnh, Phạm Duy Tốn, Nguyễn Văn Vĩnh and Hồ Biểu Chánh.
After 1945, Phan Khôi moved to the Resistance zones where he participated, as a non-communist intellectual, in the Viet Minh war against the French. He once stated, perhaps with some nostalgia, that during these years, "it seemed as if no one was troubled at all" by the Workers Party's cultural policies, and that the "masses" and the leadership were as one [Phan Khôi, "Phê bình lãnh đạo văn nghệ" ["Criticizing the cultural leadership"], in Tìm hiểu sự thật [Searching for the truth] (Saigon: Nhà in Quốc gia, 1957, p. 9)]. It appears that his experience going through Communist rectification classes, followed by his knowledge of the abuses of land reform from 1954 onwards, disillusioned him deeply.
By the end of the war against France, he had returned to Hanoi, where he founded in 1955 the journal Nhân Văn [Humanism]. With another journal, Giai Phẩm [Giai Phẩm], it became a key forum for writers outraged by Communist rule. Both of these were shut down in June of 1958, and Phan Khôi himself was silenced for the last two years of his life. While the Party tried to force him into "self-criticism" to admit his errors, he refused to do so. He died in 1959.
Linh Dinh started this entry.
Works
Bàn về tế giao (1918)
Tình già, poetry (1932)
Chương Dân thi thoại, verse narrative (1936)
Trở vỏ lửa ra, novel (1939)
Việt ngữ nghiên cứu, scholarship (1955)
Ông Năm chuột, short stories
Lỗ Tấn Truyện Ngắn Và Tạp Văn, a volume of Lu Xun in translation
Mộng Trung Mộng, short stories (written in Chinese)
Hoạn Hải Ba đào, short stories (written in Chinese)
Phan Khôi online