Qui Nguyen
From Wikivietlit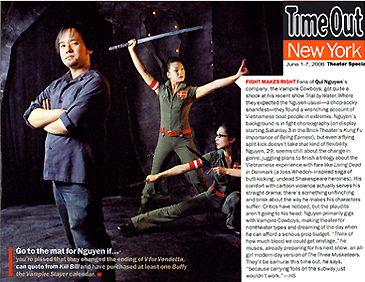 Qui Nguyen (1976) is a playwright, fight choreographer, and artistic director of the Obie Award-winning Vampire Cowboys.
He was born in El Dorado, Arkansas, and lives in Brooklyn with his wife, Abby Marcus, and their son, Sam. His parents, Quang and Tong Nguyen, arrived and met in Arkansas where the first refugees arrived in 1975. A March 26, 2007 review in the New York Times of his production of "Men of Steel" is remarkable for not mentioning that Qui is Vietnamese. The characters of the play are costumed superheroes, from the most assimilated form of Jewish literature in the United States, comic books.
One of his focuses is the representation of violence, in the modern tradition of breaking through polite norms to authentic experience: he is a resident playwright of New Dramatists, a member of Ensemble Studio Theatre and The Playwrights Center, an alumnus of EST's Youngblood Playwrights Group, co-director of Ma-Yi Theater Company's Writers Lab, and along with Robert Ross Parker a Co-Artistic Director of Vampire Cowboys and its Rabid Vamps Fight Studio, whose manifesto embraces pop-culture & entertainment, including sex and violence, as fundamental to art in our times. In an interview, he describes his engagement with the Vampire Cowboys:
"For me, as an Asian American playwright, the Vampire Cowboys have given me a place to talk from that isn't about my race, that isn't about being a minority. People are taking me into account as a writer, as a professional, because of the aesthetic that I do. People know that I have a wacky aesthetic, that I have a wacky sense of entertainment. It's a good place for me. To be quite honest, I think I have a lot more to say as a Vampire Cowboys artist than I do as an Asian American. That's why I'm so passionate about this company."
A Google search yields substantive reviews and interviews. The chief reference sources given are his entry at Wikipedia and at the Playwrights' Database, which list twenty-two plays, including one collaboration with Vampire Cowboys partner Robert Ross Parker published in Plays and Playwrights 2005 - An Anthology of 12 Contemporary Plays,[1] edited by Martin Denton.
Dan Duffy started this entry.
Plays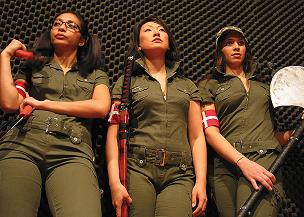 "The Inexplicable Redemption of Agent G"
"Krunk Fu Battle Battle"
"Soul Samurai"
"She Kills Monsters"
"Alice in Slasherland"
"Trial By Water"
"Fight Girl Battle World"
"Men of Steel"
"Living Dead in Denmark"
"Aliens Vs. Cheerleaders"
"Stained Glass Ugly"
"A Beginner's Guide to Deicide"
"Bike Wreck"
"Belted Blue, Bleeding Yellow"
"Vampire Cowboy Trilogy"
The Vampire Cowboys Manifesto
By Qui Nguyen and Robert Ross Parker
1. Vampire Cowboys shows must entertain. No message, truth, or idea can be conveyed to an audience that is not engaged. If we fail at this, we fail at everything.
2. Anything goes in a Vampire Cowboys creation. Thusly, consistency is obsolete. Style and genre can and will change on a dime. There is no time in the post-post-post to deal with "setups" for form.
3. There are no taboos in Vampire Cowboys. Any and all subjects, no matter what size, can be explored with as much reverence or flippancy as we see fit.
4. All artists in Vampire Cowboys are creative whether they be a director, playwright, actor, designer, stage manager, choreographer, or producer. The lines between all professions must and will be blurred.
5. Music, Violence, and Sex are the background for all Vampire Cowboys work. We live in a world fueled by raw aggression, not civility. Thusly all work will and should be flavored in the musical, the physical, and the sexual.
6. Vampire Cowboys plays must not conduct "lessons". "Lessons" and "Morals" are for propaganda plays that wish to manipulate the society to mindlessness and obedience. The job of the Vampire Cowboys artist is to ask questions and, above all, entertain.
7. All Vampire Cowboys shows by nature are experimental, but all experiments must impact and entertain the audience. If the experiment only serves the artist and proves to be confusing to our spectators, then that experiment must be cut out of the show.
8. Vampire Cowboys will not produce "classical plays". Classical plays suck.
9. Vampire Cowboys shows must be sexy. Art by nature is a reflection of the culture of "today". If this is true, then Vampire Cowboys shows must also be as sexy, stylish, and equally as "pop-culture" as anything seen on television or film.
10. Vampire Cowboys shows must never ever be boring.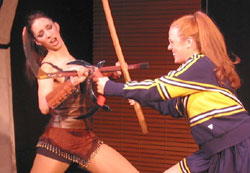 11. Vampire Cowboys would like to clarify its stance on classical plays. They don't all suck. Just most of them. We're sure if you're producing a classical play at the moment, you must have found the one that doesn't suck. And Vampire Cowboys is equally sure that your take on that classical play is mondo original. Because of this, Vampire Cowboys thinks you're awesome.
12. But worry not, Vampire Cowboys still will not produce classical plays. We still think they blow.
13. Vampire Cowboys plays will always include multimedia. ALWAYS! Unless it doesn't make sense, then we won't.
14. Vampire Cowboys never perform matinees. Matinees are for old people.
15. Vampire Cowboys just wants to make sure that no one was actually offended by our comment about classical plays. We keep getting emails about it. Mainly from our professors in university who thought we'd end up doing something more traditional with our degrees than folding them into paper airplanes and flailing them at one another.
16. Vampire Cowboys used the word "university" in the last statement because we thought it would make us sound more British. And people take Brits more seriously when they talk about theatre.
17. Vampire Cowboys probably shouldn't be drinking while they write manifestos.
18. If you're still reading this, Vampire Cowboys would like to french kiss you on the mouth.
19. Anywhere else, it will cost you extra.
20. Vampire Cowboys finds prostitute humor quite funny.
21. Vampire Cowboys shows always have Vampire Cowboys in them. Except for most of them which didn't.
22. Vampire Cowboys artists aren't actual vampires or cowboys. Seriously, it's just a name. Stop asking us to bite you.
23. People who come to see Vampire Cowboys shows are far better people than people who don't come to see Vampire Cowboys shows. Vamp Fans rule all.
24. Repeat. Vamp Fans rule all.
25. Vampire Cowboys hearts you. Forever. BFF.
Qui Nguyen online