The Giang
From Wikivietlit
Thế Giang (1958), real name Trần Hưng, is a fiction writer.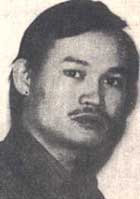 He was born in Hanoi, went to Saigon in 1975, escaped Vietnam by boat in 1980, and is living in Werne, Germany, where he runs a restaurant. A contributor to many overseas journals, he has published one collection of short stories, Thằng Người Có Ðuôi [Man with Tail] (1987). An English translation of his story, "A Stagnant Water Place," appears in the anthology Night, Again.
Linh Dinh started this entry.