---
A Conversation with Ly Lan
Conducted by email between Belgium and Viet Nam by Lily Chiu
Lily Chiu (LC): Please tell me a little bit about your background. Your father immigrated to Viet Nam from China, as you talk about in Strangers' Land [Dat Khach], and married a Vietnamese woman. What was it like to come from a mixed Chinese-Vietnamese family?
Ly Lan (LL): It meant a background tangled up with historic conflicts, cultural mixes, and human complications. My mother was a special Vietnamese woman who, living in a Vietnamese village in the mid-20th century, decided to marry the man she loved in spite of the opposition of the whole clan. My father is special, too: a Chinese immigrant who always lives weighted down with nostalgia but never wants to leave the land where he buried his wife. In his eighties now, he continues to visit my mother's tomb as he has done frequently for the last forty years. I grew up learning that there are cultural differences and human similarities; and one needs a genuine love to share what we have in common and respect the differences.
LC: You grew up in both your mother's village of Binh Nham and in Cho Lon [editor: the "Chinatown" which, with Saigon, makes up Ho Chi Minh City], and you write about both village and city life in your stories. What were for you the greatest differences between village and city cultures? Which do you prefer?
LL: My village has changed a lot since I left it as a child. It was a center of fierce warfare during ten years of war, then went through ten years of socialist reform, then industrialization (one of the first industrial parks in Vietnam was built right next to the village) and now is rapidly swallowed up by the urban envelope of Ho Chi Minh City, just to the south. I just visited my village a week ago and found myself wandering in a strange world of young immigrant workers talking about Korean soap operas, Taiwanese and Singaporean bosses, Hong Kong fashion, Japanese motors … in their village accents of the Mekong Delta and the Northern and Central provinces. When I moved from my village to Cho Lon, I believed the great differences between village and city cultures were the differences between nature and artificiality. My village was my childhood, the city was my womanhood. My village was a poem and the city culture is prose. If I hold to this belief, then my village is gone. Last week when I sat in the house where my grandmother gave birth to my mother and my mother gave birth to me, I learned what nostalgia really means.
LC: What was your schooling like? Which authors influenced you the most while you were growing up? Which authors influence you the most now?
LL: I first went to the school in my village, then a Chinese school in Cho Lon, then back to Vietnamese community schools. I graduated from the Teaching College of the University of Ho Chi Minh City in 1980 and got an M.A. in English at Wake Forest University in 2003. The author who influenced me forever is Antoine de Saint-Exupéry. I read him as a child, a woman, and a writer.
LC: You worked as a journalist in Vietnam alongside of writing your own fiction. Was there a lot of censorship in the Vietnamese press? What was it like being a "working woman" in contemporary Vietnam?
LL: Officially, there is no censorship in the Vietnamese press; practically, there is no private or independent press in Vietnam. My journalist career officially lasted nine months with three three-month contracts with the Worker [Nguoi Lao Dong] newspaper. Most of the time as a journalist I have worked freelance, contributing to a dozen newspapers and magazines. In this way I have dodged quite a few of the abuses and pressures that many of my women colleagues have had to face and fight daily.
LC: Many of the characters in your fiction are detached, outsiders, or somehow see life differently from others. Why do you like to write about people like that?
LL: They are me and people who I know well.
LC: I see from your bibliography that you had several collections of stories published in 1999. What made that such an important year for your work?
LL: I quit teaching in 1997 and gave myself all my time for writing. Those published in 1999 were actually written in 1998 and 1997.
LC: Please talk a bit about your translation work, particularly the Harry Potter books. Why did you decide to translate J.K. Rowling's works into Vietnamese? How have they been received in Vietnam?
LL: I've tried to translate other literary works by Sylvia Plath, Flannery O'Connor, Louise Erdrich, Sandra Cisneros, Zora Neale Hurston, Bernard Malamud, Yeats, Grace Paley, Kevin Bowen, and many others that I enjoyed reading and sharing with my compatriots. But it's difficult in Vietnam, as anywhere else, to sell poems and short stories. Harry Potter books are best-sellers in the world so it has been easier to find consumers of these books in Vietnam. I read the first book in the series in 1997 and wanted to share it with young readers in Vietnam but could only persuade the Youth Publishing House [Nha Xuat Ban Tre] to sign a translation contract in 2000, when the book was on the best-seller list of the New York Times. Vietnamese young readers liked the book so much that they wanted me to keep on translating the whole series. I'm hoping, after the Harry Potter books are finished, I may have the support from the Public Affairs Office of the U.S. Consulate in Ho Chi Minh City to publish a collection of twenty-four short stories translated from American women writers. [Editor: the project has been abandoned over copyright issues.]
LC: Vietnamese writer and fashion designer Anna Möi has remarked upon the difficulty to have only one single profession in Vietnam. Do you agree with her? You have worked as an English teacher, translator, editor and writer. Do you prefer one of these above the rest, or do you enjoy the mix?
LL: If your profession is as a doctor, engineer, businesswoman or others that make a good income, it's not difficult to pursue a single career. For many years I made my living by teaching and considered writing as a hobby. Since I quit teaching I have had to take many jobs because I'm not professional in any of these jobs (editor, designer, TV script-writer, multi-media producer, folklore researcher, ethnic culture activist). Now I feel that being a freelance writer is good enough for me.
LC: You now reside in the US, after receiving your Master's degree from Wake Forest University. How has moving to America affected your work? Do you find it easier or more difficult to write outside of your own country? Does living in the US give you a different perspective on Vietnam? What are you working on now?
LL: I've actually traveled back and forth between Vietnam and the US in the last four years. It certainly affects deeply my way of living; therefore, I think it more or less affects my writing (in themes and style). Sharing my time between two countries gives me evolving and comparative perspectives on both countries. It's easier for me to write in my familiar environment – I'm afraid it's a sign of getting old – stuck in your habits! At the moment I'm working on my novel.
LC: How are you received when you return to Vietnam? Do people now treat you like an overseas Vietnamese [Viet Kieu]? What do you think of the changes that have occurred in Vietnam since you left?
LL: I'm doing this interview in Vietnam, at home. Here I'm always Ly Lan to those who know me and an ordinary woman to all others who see me on the streets, buses, and markets … Even if you don't leave Vietnam you see changes - some things replace some things in good or bad or not-good-not-bad forms. They break my heart and stir my mind at the same time. We are living in a changing world, aren't we?
Interviewer Lily Chiu teaches English in Brussels and Vietnamese in Ghent. She has taught Vietnamese and world literature at Hampshire College and at the University of Michigan, British and American literature at Can Tho University, and English language at Tan Quoi High School. She writes widely on colonial, post-colonial and Francophone literature. For more on her see the note on the translator.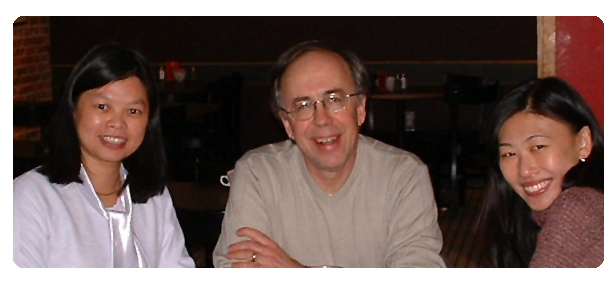 Ly Lan and Lily Chiu with Mart Stewart - March 7, 2003, in Ann Arbor for "The Other Viet Nam" conference at the University of Michigan.
---