| | |
| --- | --- |
| "A Dream of Tu Lam" | |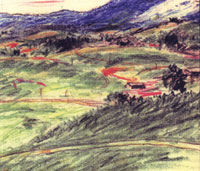 It was in such a mood that I came across a place called Tu Lam. Lying at the foot of a hill, it was a small village with a tranquil air. Far off one could see chains of royal blue mountain peaks that were unbroken in the distance and shrouded each morning and afternoon in veils of cloud and mist. There was a small stream with clear blue water that burbled over a bed of white sand. This landscape had a deep effect on me, a visitor who was passing through. It was not a famous site, it was not located on a high mountain, and its stream was not deep. Yet it seemed so warm and gently alluring that it easily won me over. At that time, I was neither overawed nor overjoyed. But I soon embraced it as if it were my native village. A wave of nostalgia came over me; I didn't want to leave it. I intended to find some work there, so that I could stay on for a while.
From "A Dream of Tu Lam" by Nhat Linh translated by Greg and Monique Lockhart
Click here to go to the stories page
A law student leaves Ha Noi to bury his mother and father back home. He takes the opportunity to tramp the countryside, working his way with his hands. He settles above a small village where a local man recognizes Tran Luu, hires the young man as a teacher, and leaves him writing in the afternoons at the villa where his young daughter spins silk in the courtyard.
Nhat Linh called his story "A Dream of Tu Lam" and it is like a dream, unlikely events strung together with a sense of necessity and fitness. Like a dream it is bounded by waking reality, framed by a narrator coming home from work and going off again. Like some good dreams it offers a vista of life as it could be.
Translator Greg Lockhart's introduction lightly touches on the many ways Nhat Linh's fiction is a dream. It is a vision of a Confucian utopia, a version of traditional Vietnamese life, a slice of French romanticism and a memory of Russian radicalism.
It was also an ideal adopted by the author's literary and social movement. The Self-Reliance Literature Group and their leader Nhat Linh have left little behind from their struggle under French domination for a new Viet Nam with the virtues of the old, but their visions remain.

" A Dream of Tu Lam" offers still what it did in 1926: an escape from today, from going to the office and coming back home, trying to fit into a world no one is satisfied with. Lie back with Nhat Linh in a hammock beside Tran Luu and dream of a different life.
Click here to go to the stories page
---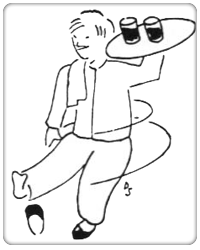 After that I had a great idea:  I would apply to work as a boy on board a ship.  Being a boy certainly wouldn't be difficult, and, rather than losing money on the fare, I would make some as I worked my passage to France.  Therefore, I told my girlfriend to lend me a brass tray and two glasses so that I could train myself to become a waiter.
I put two glasses full of water on the tray and ran around the house with it from dawn to dusk, imagining that I was serving on an ocean liner.  From time to time, I tilted the tray as though I were standing on a ship that was rolling on the waves.  After practising for a few days, not only was I far from expert, I also had to drink the water to quench my thirst.  Then, I discovered that waiters never serve passengers fresh water, and immediately told my girlfriend to make two glasses of iced coffee so that my practice would be more authentic.
But my taste for iced coffee only made me more thirsty and, from then on, I had to carry four glasses.
Finding that I also got sick of coffee, I soon replaced it with wine.  An advantage of using wine was that many times I felt myself swaying as though the ship was in a storm, and this had the additional virtue of preparing me to deal later with sea sickness.
I have said that by becoming a 'boy' I would not lose money on the passage.  However, given that my method of training had already cost me some money, it was not long before I realized that I would spend all I had saved for my trip to France.  Consequently, I gave up all hope of becoming a 'boy': it was all a matter of destiny; but so too, from that time, was the fact that I took a liking to drink.
"Practising to be a Waiter" from "Going to France" by Nhat Linh translated by Greg and Monique Lockhart

Click here to go to the stories page
Lang Du is the pen name used for the story, "Going to France" (Di Tay) by the writer who later became famous under another pen name: Nhat Linh.
Under that name he edited two of the most famous magazines of Viet Nam under the French, Customs (Phong Hoa) and Today (Ngay Nay).  As editor and friend he led a literary and social movement from Ha Noi in the 1930s.
Nhat Linh wrote the most famous novel of the Self-Reliance Literary Movement (Tu Luc Van Doan), called Break (Doan Tuyet). A love story, it tells of a young woman ground between family obligations and her desire for life on her own terms.  It took the reading public of colonial Viet Nam by storm, both reflecting and influencing the way young men and women in the cities actually fell in love and got married.
Publishers reprinted this novel and its companions in Saigon after the division of Viet Nam in 1954, and then again in the United States when so many people fled from the Communists after the fall of the city in 1975.  Recently, after 1986, when Communist leaders called for a more open society, publishers in Ha Noi have brought out bright new editions of Nhat Linh and his friends.
After his success in literature in the 1930s, the author Nhat Linh plunged into politics in the 1940s, struggling against French rule and for a Vietnamese nation.  Under his given name Nguyen Tuong Tam he organized anti-colonial groups and even joined Ho Chi Minh in the first coalition government of Viet Nam in 1946.
But Nguyen Tuong Tam broke with the Communists to live in Ha Noi after the war of independence erupted in 1947, to head south to the new Republic around Saigon in 1954.  He already had reprinted the Self Reliance books while in Ha Noi, then in Saigon published a popular magazine with a painting on each cover of an orchid from his home in Dalat.
Nguyen Tuong Tam ended his own life by poison in 1963, in protest against Ngo Dinh Diem's administration of the Saigon government.  This was the same year that Buddhist monks burned themselves to death in the same cause, and that the government of the United States lost confidence in Diem and supported his murder.
From back before all that heartbreak, Lang Du's story "Going to France" is the cheerful legacy of a young man who went on to a career of difficulties, who struggled to serve his people as a politician but easily succeeded in entertaining them.
A work of art, the travelogue of Lang Du comes directly from the student life of Nguyen Tuong Tam.  Born in 1905 to a mid-level official serving the Vietnamese government under the French, he left school when his father died, to help out the family.
But support from relatives and scholarships brought him back to school, and sent him abroad to France for three years to finish his education.  When he got back to Ha Noi, he published the crowning work of his student days in the first responsible job of his new adult career, editor at Customs (Phong Hoa).
"Going to France" tells young Nguyen Tuong Tam's story best.  Greg and Monique Lockhart have worked together as translator, essayist and annotator to present the tale, with illustrations from the original magazine appearance.
Click here to go to the stories page
---