Alan Farrell
From Wikivietlit
Alan Farrell
(1945) writes criticism about French-language texts from Viet Nam. He draws on his experience leading French-speaking national minority infantrymen near the Ho Chi Minh trail and later teaching French language at Hampden-Sydney College and Virginia Military Institute. An arresting public speaker, he delivers most of his work in person.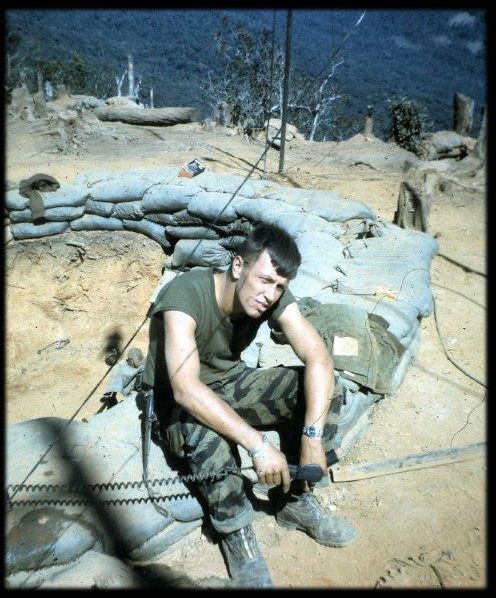 Farrell's choice of texts and his interpretations distinguish themselves in frankly expounding an elite perspective to command attention for realms of experience that customarily are excluded from middle-class discussion. He frequently draws on experiences as a Special Forces infantryman with the Studies and Observations Group, which operated secretly in or near Laos and communist Viet Nam. He cites the pidgin called tai boi or langue des nha que, spoken to him by highlanders who had fought previously for the French, as an abiding influence.
Farrell himself appears as a source and character in the history Secret Commandos: Behind Enemy Lines with the Elite Warriors of SOG (NAL Trade, 2005), by John Plaster, the photo book Running Recon: A Photo Journey with SOG Special Ops Along the Ho Chi Minh Trail (Paladin, 2004) by Frank Greco, and in Laura Fairchild Brodie's history Breaking Out: VMI and the Coming of Women (Vintage, 2001). Virginia Military Institute took an oral history of his military service.
Dan Duffy started this entry.
Alan Farrell Presentations on Vietnamese and National Minorities Using French
Y sont rien moches, les Amerloques: teaching oral French Humanities, Kansas City 1989
Ça faire bon, zef Congrès International d'Etudes Francophones, Martinique, 1990
Récits de guerre vietnamiens en langue française Congrès International d'Etudes Francophones, Strasbourg, 1992
People of the Ant Popular Culture Association, Louisville, 1992 [In print as "Un peuple de la fourmi," Francographies, 1993]
Front du ciel: a Vietnamese Novel of War in the Sky Far West Popular Culture Association, Las Vegas, 1995
Francophonie in Vietnam Modern Language Association, Chicago, 2000
Internal Exile: Francophone Visions of Youth's Entelechy James Madison University, Harrisonburg, 2002
Love Along Route 538: Ho Chi Minh Trail and Humanity in Vietnamese Literature Popular Culture Association, New Orleans, 2003
Con Gai: Viet Women Novelists in French Women in French, Reed College, 2004
Mothers of Darkness: Images of the Mother in Francophone Novels West Virginia Conference on Foreign Languages, Morgantown, 2004
Teaching argot: le langage de la haine Workshop for New Hampshire Association of World Language Teachers, Meredith, 2005
Alan Farrell Presentations on the French in Viet Nam
Long Noses, Fat Fingers, Round Eyes: Vietnamese Visions of Outsiders 1939-1975 Popular Culture Association, New Orleans, 1993
Le mandarin blanc Congrès International d'Etudes Francophones, Quebec, 1994
A Personal Notion of Honor: France in Vietnam Florida Film and Literature, Tallahassee, 1998
Atonement with Hecate Popular Culture Association, New Orleans, 2000
Schoendoerffer's Vietnam Popular Culture Association, Philadelphia, 2001
Companion to Dragons, Brother to Owls: Captains at War West Virginia University Conference on Film and Literature, Morgantown, 2003
Traduction of a Film: Vercel's Capitaine Conan as Vietnam Commentary Popular Culture Association, San Antonio, 2004
Eugène Crampon, Martyr to the West France and the Cold War, Tallahassee, 2005
Solvit saeculum: Dissolution d'une section et d'un empire Congrès International d'Etudes Francophones, Ottawa, 2005
Parachutes and Petticoats: Brigitte Friang and Madeleine Riffaud Popular Culture Association, Atlanta, 2006