Hoang Hung
From Wikivietlit
Hoàng Hưng (1942), real name Hoàng Thuỵ Hưng, is a poet, translator, and essayist.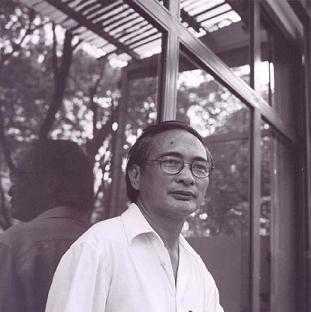 Born in Hung Yen province in North Vietnam, Hoàng grew up in a westernized intellectual family. His father [name?] was one of the first Vietnamese doctors of medicine to graduate from Paris University [name of university correct? possible anachronism] and his uncle [name?] was one of the pioneers of the Vietnamese modern press after studying journalism in France. He graduated from Hanoi Teacher's University with a B.A. from the Department of Linguistics and Literature in 1965.
Hoàng's first poems were published in 1961, and he became known as a member of the "Anti-American generation" in North Vietnam. Beginning in the late 1960s, he became increasingly disillusioned with the aesthetics and politics of the official verse culture. In 1970, his first poetry collection, Đất Nắng, or Sunlit Land, was published. In the same year, he published a statement of poetics in Văn Nghệ journal that challenged the tenets of "socialist realism" in revolutionary poetry. In this article, he argued that "Poems should not be the 'fashioned chant of worship' but should go in deep into people's states of mind" and "Poems should be continuously renovated, in order to remain current with developments in time" (180). Criticized for spreading "decadent" poetry, he shunned the publicly sanctioned poetry supported by the Vietnamese Writers Union and sought refuge in a more private voice, choosing to circulate his poetic manuscripts of "free verse" among close friends rather than seeking public approval through publication.
In 1977, Hoàng moved to Saigon and worked as a special correspondent for a Hanoi-based weekly. In the early 1980s, he began experimenting with a kind of automatic writing, or what he refers to as "fulguration poems": "poems written spontaneously, by writing down all the vocables that suddenly appeared in my mind…including words and meaningless sounds" (182). In 1982, he was imprisoned for 39 months in a reeducation camp for his involvement in the Về Kinh Bắc case surrounding poet Hoàng Cầm's banned manuscript as well as the discovery of his own reactionary poetic manuscripts. In prison, he began teaching himself English by translating literary works.
After his release, Hoàng continued to write, often drawing on his prison experience. During the liberalization period of Đổi Mới in the late 1980s and early 1990s, his once marginalized poetry reentered the literary public. Two collections of his poetry appeared, Ngựa biển [Sea Horse] (1988) and Người Đi Tìm Mặt [The Man In Search for His Own Face] (1994). These collections, self-published under the license of a state-run publishing house, signified the growing and still prevalent trend of literary self-publication in Vietnam.
At present, Hoàng lives in Hanoi and Ho Chi Minh City with his wife and two children, and works as a senior writer of Lao Động [Labour] newspaper, specializing in cultural affairs and translating poems and novels from French and English. After retiring from his official job of journalist in 2003, Hòang works as a free-lance writer and an active contributor to Talawas.
He is translated into English and included in the anthology, Black Dog, Black Night.
Hai-Dang Phan started this entry.
Reference
Hoàng Hưng. "The Modernization of Vietnamese Poetry: A History from a Vietnamese Poet's Perspective." (New American Writing 22, 2004)
Works
Poetry
Đất nắng (in chung với Trang Nghị, Văn học, Hà Nội 1970)
Ngựa biển (Trẻ, TPHCM 1988)
Người đi tìm mặt (Văn hoá Thông tin, Hà Nội 1994)
Hành trình (Hội Nhà văn, Hà Nội 2005)
"Ác mộng" (Talawas.org. Berlin 2006)
Translation
100 bài thơ tình thế giới (editor and co-translator), Vũng Tàu-Côn Đảo, 1988
Thơ Federico Garcia Lorca, Lâm Đồng 1988
Thơ Pasternak (co-translator with Nguyễn Đức Dương), TPHCM, 1988
Thơ Apollinaire, Hội Nhà văn, Hà Nội 1997
Các nhà thơ Pháp cuối TK XX, Hội Nhà văn, Hà Nội 2002
15 nhà thơ Mỹ TK XX (15 20th century American poets, editor and co-translator), Hội Nhà văn, Hà Nội, 2004
" Lên đường rồi lại lên đường" (the poetry of André Velter, France) Hội Nhà Văn 2007
Mowgli Người-sói (The Jungle Book, Rudyard Kipling), Trẻ, TPHCM 1988, 1989, 1999
Người đàn bà lạ lùng (De guerre lasse, Francoise Sagan, co-translator with Nguyễn Lâm), Văn học, Hà Nội 1990
Đồ vật (Les choses, Georges Perec) Hội Nhà văn, Hà Nội 1999
Từ điển Bách khoa Oxford cho thiếu niên (editor), Kim Đồng, Hà Nội, soon to be published.
Hoàng Hưng online