Le thi diem thuy
From Wikivietlit
lê thị diễm thúy (1972) is a Vietnamese-American fiction writer and performance artist.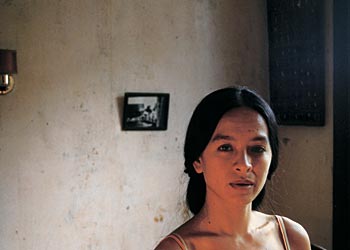 Born in Phan Thiết, Republic of Viet Nam, she escaped Viet Nam by boat with her father in 1978 and eventually resettled in Linda Vista, San Diego, where she grew up. In 1990, lê came to Massachusetts and enrolled in Hampshire College, where she concentrated on cultural studies and postcolonial literature. In 1993, lê went to Paris to research a project on French colonial picture postcards made in the early 1900s.
Back at Hampshire, she wrote poems, prose pieces, and sections of dialogue and gradually worked them into her first performance piece, Red Fiery Summer. After she graduated from Hampshire in 1994, she began peforming her solo shows, Red Fiery Summer and the bodies between us, at many different venues, including the Whitney Museum of America at Philip Morris, the International Playwright's Festival in Galway, Ireland, and the Third New Immigrant's Play Festival at the Vineyward Theater in New York City.
In 1996 she published a prose piece--which later became the title section of The Gangster We Are All Looking For--in Massachusetts Review, and the same year it was republished in Harper's magazine. Her novel, The Gangster We Are All Looking For, was published by Knopf in 2003.
Hai-Dang Phan started this entry.
lê thị diễm thúy online