Nguyen Ba Chung
From Wikivietlit
Nguyen Ba Chung is a poet, translator, and essayist.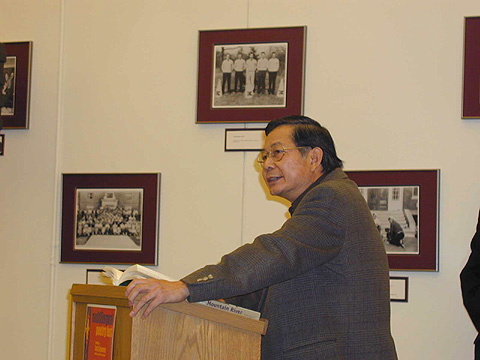 Born in 1949 in Kim Thanh District, Hai Duong Province, he moved to Saigon with his family in 1955. In 1971, after attending the Faculty of Letters in Saigon, he came to the United States to pursue a graduate degree in American literature at Brandeis University.
He has been a research associate at the William Joiner Center for the Study of War and Social Consequences at the University of Massachusetts at Boston since 1996. His essays and translations have appeared in Boston Review, Vietnam Forum, New Asia Review, Compost, Nation, Manoa, and other journals. He has co-translated numerous works, including Le Luu's Thoi Xa Vang [A Time Far Past], Nguyen Duy's Distant Road: Selected Poems, and Six Vietnamese Poets.
He is also the author of the poetry collections, Co Noi [Field Grass] (1995), Mua Ngan [Distant Rain] (1996), and Ngo Hanh [Gate of Kindness] (1997) and the co-editor of Mountain River: Vietnamese Poetry from the Wars, 1948–1993.
Hai-Dang Phan started this entry.
Nguyen Ba Chung online