Nguyen Ngoc Ngan
From Wikivietlit
Nguyễn Ngọc Ngạn
(1946) is a novelist and author of short stories and one memoir.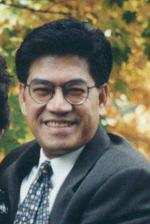 He was born in Sơn Tây, northern Vietnam, went to Saigon in 1954, taught school after graduating from the University of Saigon, before being drafted into the South Vietnamese Army. After the Fall of Saigon in 1975, he was imprisoned by the Communists for three years, then sent with his family to perform hard labor in a "New Economic Zone." In 1979, he and his family escaped Vietnam by boat, but he alone reached Malaysia, his wife and four-year-old son having died when their boat capsized within sight of shore, drowning 161 people altogether. He was given asylum in Canada that same year, eventually settling in Toronto. While still in a Malaysian refugee camp, he wrote his first novel, Những Người Đàn Bà Còn Ở Lại [The Women Left Behind], but it wasn't published until eight years later. His first published work, "The Will of Heaven" (Hutton 1980), was a memoir co-written in English with E.E. Richey. He has since published 25 novels and collections of short stories in Vietnamese, and is by far the most popular author in the overseas Vietnamese community. He is also famous as a host of a series of music-variety videos, "Paris by Night," most often filmed in... Las Vegas.
Linh Dinh started this entry.
Works
The Will Of Heaven, memoir in English, co-written with E.E. Richey (Hutton 1980)
Lúc Gần Sáng, short stories (Viet Pub, 1986)
Những Người Ðàn Bàn Còn Ở Lại, novel (Ðông Phương, 1987)
Nước Ðục, novel (Viet Pub, 1987)
Sân Khấu Cuộc Ðời, short stories (Văn Khoa, 1987)
Một Lần Rồi Thôi, short stories (Xuân Thu, 1987)
Truyện ngắn Nguyễn Ngọc Ngạn, short stories (Viet Pub)
Màu Cỏ Úa, novel (Xuân Thu, 1988)
Biển Vẫn Ðợi Chờ, short stories (Xuân Thu)
Trong Quan Tài Buồn, novel (1988)
Sau Lần Cửa Khép, novel (Văn Lang, 1988)
Đếm Những Mảnh Tình, novel (1989)
Trên Lối Mòn Hậu Chiến, novel (1989)
Cõi Ðêm, novel (1990)
Những Người Ðàn Bà Ði Bên Tôi, short stories
Trong Sân Trường Ngày Ấy
Ngày Buồn Cũng Qua Mau
Dung Nhan Người Góa Phụ, novel (1990)
Chính Khách
Chút Ân Tình Mong Manh
Quay Trong Cơn Lốc
Dấu Chân Xưa
Nhìn lại Một Thập Niên
Nắng Qua Phố Cũ (Văn Khoa 1996)
Dòng Ðời Lặng Lẽ, three short stories (1998)
Xóm Ðạo, novel (Tân Văn, 1999)
Nguyễn Ngọc Ngạn online