Nguyen Van Vinh
From Wikivietlit
Nguyễn Văn Vĩnh
(1882–1936) was a translator, journalist, essayist and theater director.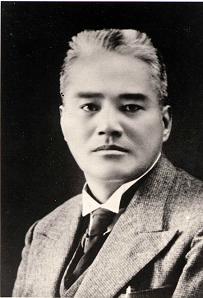 He was born in Hà Đông and died in Laos, of dysentery, while on a gold-digging expedition to escape from debt. One of the greatest translators in Vietnamese literature, he introduced Vietnamese readers to La Fontaine, Molière, Hugo, Jonathan Swift, Alexandre Dumas and many others. He also edited the newspapers Đại Nam đăng cổ tùng báo, Lục tỉnh tân văn, Đông Dương tạp chí, Trung Bắc tân văn, Notre Journal, Notre Revue and l'Annam nouveau.
In her essay, "The Emergence of Modern Vietnamese Literature", Nha-Trang Công-Huyền Tôn-Nữ relates how Nguyễn Văn Vĩnh became one of the pioneers of Vietnamese journalism and, by extension, of Quốc Ngữ [the romanized alphabet]:
"The press arrived in the north later [than in the south]. There, the pioneer in journalism was Nguyen Van Vinh (1882-1936). Nguyen went to the French School for Interpreters in Hanoi. At the age of 16, after graduation, he worked as a clerk in a French administrative office. In 1906, when he was 24, Nguyen was sent to an exposition fair in Marseilles. He had been aware of the important role which the press could play in Vietnam in the modernizing process, so on this trip he intended to learn as much as he could about this subject. The Vietnamese pavilion was situated next to that of the local newspaper Le Petit Marseillais. Nguyen became fascinated with the activities evolving around the paper, and spent whatever spare time he could manage to learn all about them. Back to Vietnam, Nguyen resigned from his post and devoted himself to journalism. In 1907, he established the first printing house in Hanoi. Also in the same year, he founded Dang Co Tung Bao, a newspaper whose too small readership caused it to close two years later. Together with Gia Dinh Bao in the south, his paper essentially served as primers, coaching readers on how to read chu quoc ngu."
Also in 1907, Nguyễn Văn Vĩnh became the first to transliterate Nguyễn Du's "Kim Vân Kiều" from the nôm to the quốc ngữ script, which helped to standardize and further popularize this classic. His seventh, 1927 edition had an incredible print run of 30,000 copies.
Linh Dinh started this entry.
Nguyễn Văn Vĩnh online