Nhat Hanh
From Wikivietlit
Nhất Hạnh or Thích Nhất Hạnh (1926), Dharma title of Nguyễn Xuân Bảo, is a writer on Buddhism, peace activist, scholar, poet and fiction writer. One of the best known Buddhist teachers in the West, Nhất Hạnh's teachings and practices appeal to people from various religious, spiritual, and political backgrounds. A prolific writer, he has authored more than one hundred books.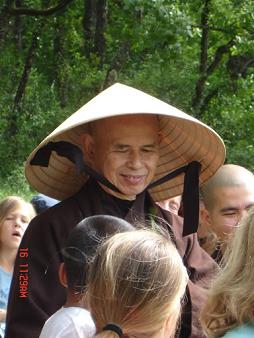 He was born in Thanh Hoá, northern Vietnam, and is living in France. He joined a Zen monastery at the age of 16, and was fully ordained as a monk in 1949. He coined the term Engaged Buddhism in his book Vietnam: Lotus in a Sea of Fire. In the early 1960s, he founded the School of Youth for Social Services (SYSS) in Saigon, a grassroots relief organization that rebuilt bombed villages, set up schools and medical centers, and resettled families left homeless during the Vietnam War. He traveled to the U.S. a number of times, starting in 1960, to study at Princeton, where he would later teach, as well as at Colombia University and the Sorbonne in Paris. Tireless promoting peace, he met Martin Luther King, Jr. and urged him to oppose the Vietnam War publicly. In a January 25, 1967 letter to the Nobel Institute in Norway, King nominated him for the Nobel Peace Prize. Nhất Hạnh also met Thomas Merton, the well-known Catholic monk and mystic, who told his students, "Just the way he opens the door and enters a room demonstrates his understanding. He is a true monk."
In 1969, at the request of the Unified Buddhist Church of Vietnam, Nhất Hạnh set up the Buddhist Peace Delegation to the Paris Peace Talks. After the Peace Accords were signed in 1973, he was refused permission to return to Vietnam, and he established a small community a hundred miles southwest of Paris, called "Sweet Potato." In 1976-77, Nhất Hạnh conducted an operation to rescue boat people in the Gulf of Siam, but hostility from the governments of Thailand and Singapore made it impossible to continue. So for the following five years, he stayed at Sweet Potato in retreat - meditating, reading, writing, binding books, gardening, and occasionally receiving visitors. In 1982, Nhất Hạnh established Plum Village, a larger, thriving retreat center near Bordeaux, France, where he has been living in exile from his native Vietnam. He has made two highly-publicized returns to Vietnam, in 2005 and 2007.
Nhất Hạnh's Old Path White Clouds, based on the life of the Buddha, has sold over a million copies in North America, been translated into 20 languages, and will be made into a film financed by Bhupendra Kumar Modi, an Indian billionaire. It is budgeted at 120 million dollars, highest ever for an Indian film, although Nhất Hạnh has declined all royalties.
Linh Dinh started this entry.
Works in Vietnamese
‎
Ánh xuân vàng
Bưởi, short stories
Chắp tay nguyện cầu cho bồ câu trắng hiện
Dấu chân trên cát
Đạo Phật hiện đại hoá
Để hiểu đạo Phật
Đạo Phật ngày mai
Hoa sen trong biển lửa
Mai
Neo Giếng Nước Thơm Trong
Thơ học trò
Tho tung om va mat troi tung hat
Thả Một Bè Lau, a zen perspective on Nguyễn Du's Truyện Kiều
Thử tìm dấu chân trên cát, poetry
Tieng dich chieu thu
Tình người
Tiếng đập cánh loài chim lớn
Tố
Tương lai thiền học Việt Nam
Tương lai văn hóa Việt Nam
Vào thiền học
Văn Lang dị sử- truyện cổ tích nước Văn Lang
Về Việt Nam
Works in English
A guide to Walking Meditation
Being Peace
Breath! You are Alive
The Heart of Understanding
The Miracle of Mindfulness
Interbeing
Moon Bamboo
Old Path White Clouds
Our Appointment with Life
Peace is Every Step
The Pine Gate
Present Moment, Wonderful Moment
Rose for your Pocket
The Sun my Heart
Sutra on Eight Realizations of Great Being
Touching Peace
Transformation and healing
Vietnam: Lotus in a Sea of Fire
Zen poems
Nhất Hạnh online