Ta Duy Binh
From Wikivietlit
Tạ Duy Bình
(1964) is a playwright, stage director, actor and kungfu/qigong instructor, also writing essays and poems.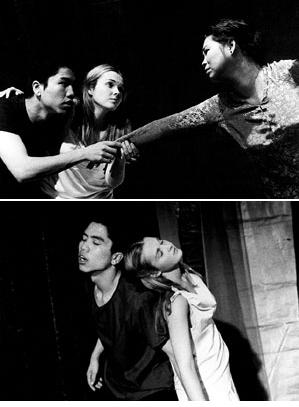 He was born in Hanoi. Binh Duy Ta trained in acting and mime in Vietnam and worked for Youth Theatre. In 1988, he defected to Australia while presenting Vietnam at the Interplay Festival, an international festival for young playwrights. His decision to stay on, to ask for political asylum, caused some tension between Vietnam and Australia. In 1996 Binh founded (with Bruce Keller) Citymoon Theatre (The Vietnamese Australian Contemporary Theatre Company) which has involved many productions. After completing a Master of Creative Arts in Theatre at Wollongong (2000), he was the writer and director of The Monkey Mother, co-director for Finding the Buffalo, and the director for Beat Box Vox Pop. In 2002, Binh performed The Boy and the Bamboo Flute for Patch Theatre in USA and Canada (May/June) and wrote & directed Viet Food Village for Carnivale and Casula Powerhouse Arts Centre (October). Binh has taught movement workshops (based on Qigong and Meditation) at Nepean University of Western Sydney, University of Wollongong, and for a number of theatre groups & festivals. His plays have been performed in Australia, New Zealand, Singapore, Korea, Japan, Canada and USA. He directed "Eleven Parts of Feeling", a play based on the poetry cycle "Mười một khúc cảm" by Nguyễn Quang Thiều.
Australian actress Eleanor Chapman traces her involvement with Vietnamese theater through working with Tạ Duy Bình. Hoàng Ngọc-Tuấn has also collaborated with him in over 10 productions.
Linh Dinh started this entry.
Works
"The Return" (1994)
"The Monkey Mother" (1998)
"Yellow is not Yellow" (2005)
Tạ Duy Bình online