Tran Dieu Hang
From Wikivietlit
Tran Dieu Hang
(1952) is a short story writer, from the first generation to begin careers in the United States.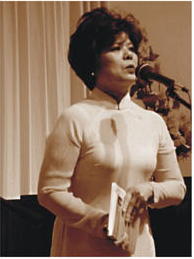 Tran Dieu Hang believes that she was the first Vietnamese woman to publish fiction in America after the fall of the Saigon. The story, "Trai Thang 4" [April in Camp Pendleton] appeared in Que Huong magazine in 1979. This was her first appearance anywhere as an author, although she had served as editor in chief of the annual at Trung Vuong, Saigon's elite high school for young women.
Since then, the stories of Tran Dieu Hang have appeared in the most prestigious Vietnamese-language literary journals of North America: Van, Van Hoc, Lang Van, The Ky 21, and Hop Luu. She has published four books of stories: Vu Dieu cua Loai Cong (The Peacock Dance) in 1984, Mua Dat La (Rain on the Strange Land) in 1986, Chom Chom Yeu Dau (Chom Chom Darling) in 1989, and Niem Im Lang cua May (The Silence of Clouds) in 2002.
Dan Duffy started this entry.
Books by Tran Dieu Hang
Niem im lang cua May. (California, An Tiem, 2001)
Chom Chom yeu dau. (Toronto, Lang Van, 1989)
Mua dat la. (Ontario, Viet Publications, 1986)
Vu dieu cua loai cong. (Westminster, Ngoc Lu, 1984)
Tran Dieu Hang in Translation
"Farewell to Douala." Trans. Qui-Phiet Tran. Michigan Quarterly Review Volume 63, number 4 (Fall 2004), pages 665-678.
"Zenith." Trans. Qui-Phiet Tran. Asian America: Journal of Culture & the Arts 1 (Winter 1992), pages 59-71.
Works about Tran Dieu Hang
In English
Tran, Qui-Phiet. "From Isolation to Integration: Vietnamese Americans in Tran Dieu Hang's Fiction." Asian American Writers. Ed. Harold Bloom. Philadelphia: Chelsea House, 1999. Pages 125-36. Reprinted in Reading the Literatures of Asian-America. Eds. Shirley Geok-Lim and Amy Ling. Philadelphia: Temple University Tress, 1992. Pages 271-84.
Tran, Qui-Phiet. "Exile and Home in Vietnamese American Feminine Writing." Amerasia Journal Volume 19, number 3 (Spring 1994), pages 71-83.
Tran, Qui-Phiet. "Vietnamese Artists and Writers in America: 1975 to the Present." Journal of the American Studies Association of Texas 20 (1989), pages 101-10.
In Vietnamese
Tran Dieu Hang Online