Vu Bang
From Wikivietlit
Vũ Bằng
(1913-1984), real name Vũ Đăng Bằng, was a fiction writer and essayist.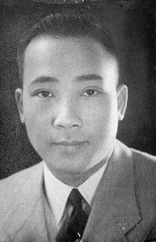 Vũ Bằng was born in Hanoi, died in Hanoi. He worked as a journalist, was best known for his writings on food, and also published under the pseudonyms Tiêu Liêu, Vịt Con, Thiên Thư, Vạn Lý Trình, Lê Tâm and Hoàng Thị Trâm.
Linh Dinh started this entry.
Works
Một mình trong đêm tối (1937)
Để cho chàng khỏi khổ (1941)
Cai (year?)
Ăn Tết Thủy Tiên (1954)
Khảo về tiểu thuyết (1955)
Miếng ngon Hà Nội (1960)
Món lạ miền Nam (1969)
Bốn mươi năm nói láo (1969)
Cái Ðèn Lồng (1971)
Nhà Văn Lắm Chuyện (1971)
Thương nhớ mười hai (1971)
Những Cây Cười Tiền Chiến (1971)
Nói Có Sách (1971)
Bảy đêm huyền thoại (1972)
Bóng ma nhà mệ Hoát (1973).
Vũ Bằng online