Vu Hoang Chuong
From Wikivietlit
Vũ Hoàng Chương (1916-1976) was a poet.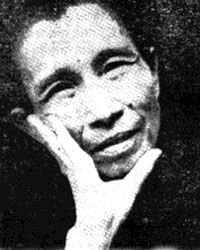 Born in Nam Định, he worked briefly as a civil servant. A refugee to the South in 1954, he taught at numerous universities and devoted himself to writing poetry. He often represented Vietnam at the International Biennium of Poetry. He was imprisoned in 1975 and died shortly after his captivity in October 1976.
He left behind a body of work that included the poetry collections Thơ Say [Drunken Poetry] (1940), Mây [Clouds] (1943), Tâm Sự Kẻ Sang Tần (1961), Lửa Từ Bi (1963), Ta Đợi Em Từ 30 Năm (1970), Chúng Ta Mất Hết Chỉ Còn Nhau (1973) and the play Trương Chi (1944).
As Nguyễn Đình-Hòa writes of Vũ Hoàng Chương, sometimes called "Vietnam's Li Po":
"His favorite themes were romantic love, alchohol, opium, and his writings between 1940 and 1945 showed a mixture of classicism and modernism. In later years, his poetry breathed more optimism in the stabilized atmosphere of anticommunist South Vietnam. In the 1970s he concentrated on his childhood love, Zen, the flame of Buddhist mercy. Overseas Vietnamese audiences consider him their greatest poet, one whose subjectivity and sensuality are illustrated by means of metrical coherence, powerful imagery and musical cadence" (155).
Hai-Dang Phan started this entry.
References
Nguyễn Đình-Hòa. Vietnamese Literature: A Brief Survey. San Diego: San Diego State University, 1994.
Võ Phiến. Literature in South Vietnam, 1954-1975. Melbourne, Australia: Vietnamese Language and Culture Publications, 1992.
Vũ Hoàng Chương online