Binh Nguyen Loc
From Wikivietlit
Bình Nguyên Lộc
(1914-1987), real name Tô Văn Tuấn, fiction writer, scholar, critic and poet, was a leading literary figure in South Vietnam.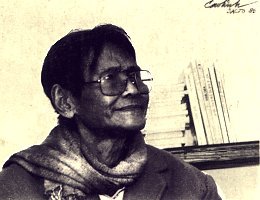 He was born in Biên Hoà, emigrated to the US in 1985, where he died in Sacramento, California. A prolific writer, he once published five novels simultaneously, in installments, in five different Saigon newspapers. A story of his, translated into English by James Banerian, is included in the anthology, Vietnamese Short Stories: An Introduction (Phoenix: Sphinx 1985).
Linh Dinh started this entry.
Works
Đò Dọc, novel (Saigon 1959), awarded first place, National Prize for South Vietnam
Nhốt Gió (1959)
Gieo Gió Gặt Bão (1960)
Ký Thác (1960)
Nhện Chờ Mối Ai (1962)
Ái Ân Thâu Ngắn Cho Dài Tiếc Thương (1963)
Bóng Ai Qua Ngoài Cửa (1963)
Hoa Hậu Bồ Ðào (1963)
Mối Tình Cuối Cùng (1963)
Nửa Ðêm Trăng Sụp (1963)
Tâm Trạng Hồng (1963)
Ðừng Hỏi Tại Sao (1965)
Mưa Thu Nhớ Tằm (1965)
Tình Ðất (1966)
Những Bước Lang Thang Trên Phố Của Gã BNL (1966)
Một Nàng Hai Chàng (1967)
Quán Tai Heo (1967)
Thầm Lặng (1967)
Trăm Nhớ Ngàn Thương (1967)
Uống Lộn Thuốc Tiên (1967)
Cần Giờ (1968)
Diễm Phương (1968)
Sau Ðêm Bố Ráp (1968)
Cuống Rún Chưa Lìa (1969)
Khi Từ Thức Về Trần (1969)
Nguồn gốc Mã Lai của dân tộc Việt Nam, scholarly (Saigon: Bách Bộc, 1971)
Từ vựng đối chiếu 10 ngàn từ, scholarly (1971)
Lột trần Viêt Ngữ, scholarly (Saigon: Nguồn Xưa 1972
Từ vựng danh từ Mã Lai mà Trung Hoa vay mượn, scholarly (1972)
Bình Nguyên Lộc online