Christian Langworthy
From Wikivietlit
Christian Langworthy
(1967) is a Vietnamese American poet and fiction writer.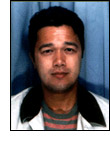 Born in Vietnam with the birth name Nguyễn Văn Phương, Christian Langworthy came to the United States through Operation Babylift in 1975 and was adopted by American parents. He graduated from SUNY-Oswego in 1990 and received an MFA in poetry from Columbia University in 1997.
His first chapbook of poems, The Geography of War (Cooper House, 1995), won the 1993 American Chapbook Award. His work has appeared in anthologies such as: From Both Sides Now, Watermark: Vietnamese American Poetry & Prose, Premonitions: The Kaya Anthology of New Asian North American Poetry, Poetry Nation, Asian American Poetry, Isn't It Romantic: 100 Love Poems by Younger American Poets, Charlie Chan Is Dead II, From Both Sides Now and Bold Words. Various poems and fiction have been published in the Michigan Quarterly Review, Fence Magazine, PBS American Experience, Salon.com, Manoa, Failbetter.com, Can We Have Our Ball Back, Mudfish, Brooklyn Rail Literary Magazine, The Recorder, Vietnam Forum, and the Asian Pacific American Journal. Several of his poems were performed in libretto at the National Gallery of Art and at the Glimmerglass Opera Festival. In 2002, dance choreographer Tai Dang incorporated his poem "Mango" into the dance performance piece, "Fragile. Family. Structures," at the Danspace Project in St. Mark's Church. He has poetry forthcoming in All Mixed Up, an anthology of mixed race poetry due in 2008.
He is also writing a novel entitled War Baby, excerpts of which have been published in forums such as PBS American Experience, Salon.com, Manoa, and Michigan Quarterly.
Hai-Dang Phan started this entry.
Christian Langworthy online