Hoa Nguyen
From Wikivietlit
Hoa Nguyen
(1967) is a Vietnamese American poet.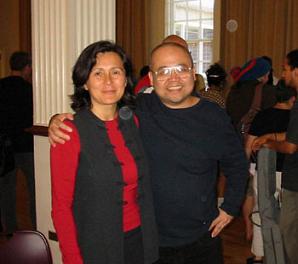 Born in Vĩnh Long, near Saigon, Hoa Nguyen left Vietnam for the Washington, DC area soon after the 1968 Tet offensive. The family spoke English at home. As a child she stole her public library's copy of Nguyen Ngoc Bich's anthology A Thousand Years of Vietnamese Poetry.
She studied poetry at New College in San Francisco, California, joining the tradition of Charles Olson and Ed Dorn, one of her teachers. She now lives in Austin, Texas where she teaches widely in a variety of settings, such as the Teachers & Writers Collaborative's Virtual Poetry Workshop.
She publishes Skanky Possum, a book imprint and journal, with her husband Dale Smith, and curates a monthly reading series in Austin. Her poems have been published in various journals and in Anthology of New (American) Poets (Talisman House, 1998). She is the author of Dark (1998), Parrot Drum (Leroy, 2000), Your Ancient See Through (Sub Press, 2002) and Red Juice (Effing, 2005).
Entries started by Hai-Dang Phan.
Hoa Nguyen online