Linh Dinh
From Wikivietlit
Linh Dinh
(1963) is a bilingual poet, also critic, essayist, photographer, translator, author of short stories and a novel, publishing in Vietnamese as Đinh Linh.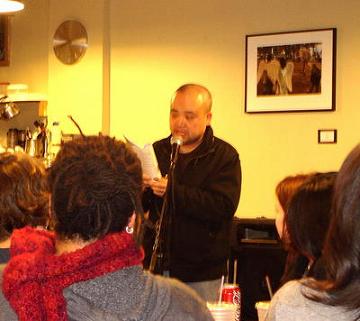 Born in Saigon, he left Vietnam on April 27, 1975 under the fake name of Lý Ký Kiệt. After living in Washington, Oregon, California and Virginia, he moved to Philadelphia in 1982, where he studied painting at the University of the Arts (at the same time as Phong Bui). After college, he survived for 13 years by working as an office clerk, house painter, house cleaner and window washer.
He showed his paintings, wrote and read his poems at literary venues around Philadelphia, including the Painted Bride in 1986, and hosted a poetry show on WXPN. In 1991, he co-founded The Drunken Boat, a bimonthly art and literary journal. Lasting just six issues, it nevertheless provided him a vehicle for promoting his growing body of work, which won him a Pew fellowship in 1993. He also wrote art reviews for the New Art Examiner, acted as critic-in-residence for Art In General in NYC, and guest-curated a show, "Toys and Incense," at Moore College of Arts.
His poems, stories and translations began to appear in leading avant-garde journals such as Sulfur, Chicago Review, New American Writing and VOLT, as well as American Poetry Review, Kenyon Review, Denver Quarterly, and New York Stories, with poems and stories translated into Vietnamese, by Khế Iêm and Phan Nhiên Hạo, among others, published in Hợp Lưu and Tạp Chí Thơ. After a 1995 trip to Saigon and Hanoi, where he met Bảo Ninh, Nguyễn Huy Thiệp, Dan Duffy and Peter Zinoman, he edited Night, Again: Contemporary Fiction from Vietnam (1996). In 1998, Singing Horse Press released his first chapbook, Drunkard Boxing.
Returning to Saigon to live in 1999, he became familiar with the city's cutting-edge, underground writers, translating many of the poets and also translating English poetry for their benefit. Translations of poetry in both directions, and to and from other languages entirely, have become a major direction in his work.
In 2001, he gave a reading with Nguyễn Quốc Chánh at the ERA Café, across the street from the fortress-like police headquarters, who sent several of their finest in plain clothes. As his career gained momentum in the US his "The Most Beautiful Word" was selected for Best American Poetry, but his work was considered too decadent and reactionary to be distributed in Vietnam. His first book, Fake House (2000), was confiscated at Saigon's post office when he went to pick up an author's copy.
In Vietnam, he started to translate his English poems into Vietnamese, and in 2001, inspired by a Trần Dần piece sent to him by Phạm Thị Hoài, he published a poem written directly in Vietnamese, "Nhưng Rồi", in Tap Chi Tho (no longer available online as of May 2009). By late 2003, his Vietnamese poems were appearing regularly on Tiền Vệ.
He returned to the US in 2001, only to leave for Certaldo, Italy, where he lived from 2002 to 2004 as a guest of the International Parliament of Writers. This experience produced some of the writing in Blood and Soap (Seven Stories Press, 2004) and an unfinished novel set in Vietnam. He began translating in and out of Italian. In 2005, he was a David Wong fellow at the University of East Anglia, England. More recently he has returned to Philadelphia, traveling to teach and give readings.
His poetry has been translated into Spanish, Italian, by himself, Portuguese, Japanese, German, by Gerd Burger, French, Polish, Icelandic, Finnish and Arabic. Blood and Soap has been translated into Japanese by Motoyuki Shibata (Hayakawa Publishing, 2008) and into Italian, by Giovanni Giri, as Elvis Phong è Morto! (Spartaco, 2006).
Poems by Linh Dinh have been selected for anthologies including Watermark (1998), Best American Poetry 2000, 2004 and 2007, Bold Words: A Century of Asian American Writing (2001), 26 nhà thơ Việt Nam đương đại (Tân Thư, Westminster, 2002), Great American Prose Poems from Poe to the Present (2003), , Asian American Poetry: The Next Generation (2004), Charlie Chan Is Dead II: At Home in the World (2004), Gertrude Stein Awards: Innovative Poetry in English 2005/2006, Black Dog, Black Night: Contemporary Vietnamese Poetry (2008).
A current project, as of May 2009, is an anthology, The Deluge: New Vietnamese Poetry. He is blogging more and more photographs, chiefly of Philadelphia street life. As editor of Wikivietlit, he is lead author of most articles in this wiki.
Hai-Dang Phan started this entry.
Go to separate Linh Dinh online page.
Linh Dinh books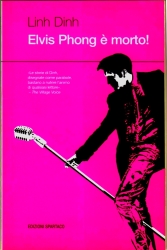 Poetry
Fiction
Translations
Criticism, reviews and interviews about Linh Dinh
Criticism in English
Criticism in Vietnamese
Reviews in English
American Tatts reviewed by Ron Silliman in Silliman's Blog, October 6, 2005
Blood and Soap reviewed by Samantha Hunt, in the Village Voice, May 18, 2004
Blood and Soap reviewed by Erica Wright in ForeWord Magazine: Review of Good Books Independently Published, September/October 2004
Fake House reviewed by Robert Malloy in Philadelphia Citypaper January 11–18, 2001
Fake House reviewed by Sara Marcus in Philadelphia Citypaper, January 11–18, 2001
Fake House reviewed by Dinh Tu Bich Thuy in English and Vietnamese at Da Mau, August 2, 2000
Fake House reviewed by Merle Rubin in The Los Angeles Times, February 10, 2000
The Publishers Weekly review of Fake House is available only to their subscribers, such as at a library computer
Drunkard Boxing reviewed by Nate Chinen in Philadelphia City Paper, December 10–17, 1998
Drunkard Boxing reviewed by Lisa Chi Chen in Asian American Journal: International
Examiner, Seattle, available online at XConnect, June 2000
Night, Again reviewed by Daisy Fried in Philadelphia City Paper, August 1-8, 1996
Reviews in Vietnamese
American Tatts reviewed by Lý Đợi in "Nghĩ lại hai chữ Xăm Mỹ - American Tatts - của Đinh Linh" at Talawas, September 9, 2005
American Tatts reviewed by Phan Nhiên Hạo in "Đọc Xâm Mỹ - American Tatts" at Talawas, September 6, 2005
Fake House reviewed by Dinh Tu Bich Thuy in "Lưu Đầy và Đế Quốc trong Bối Cảnh Nhà Ngụy", also in English, at Da Mau, August 2, 2000
Interviews, profiles and blogs in English
Interviews, profiles, and blogs in Vietnamese