Nguyen Huy Thiep
From Wikivietlit
Nguyễn Huy Thiệp
(1950) is a fiction writer and playwright.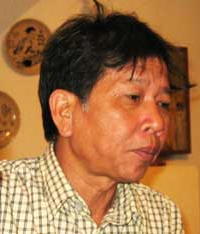 He was born in Hanoi, but spent most of his first ten years in the rural areas of northwestern Vietnam. Returning to Hanoi in 1960, he graduated from the Teachers' College in 1970, then taught remedial education to Communist Party officials in a remote province, Sơn La, a post which dragged on for years after unification. Poverty drove him back to Hanoi, where he traded in the black market and worked as a laborer. The more liberal policies of Đổi mới, or Renovation, initiated at the end of 1987, provided Thiệp with an opportunity to showcase his talent. His 1987 short story, "Tướng về hưu" ["The General Retires"], generated hundreds of articles, with some heatedly denouncing its author on moral grounds. It also established him as a major force in Vietnamese literature. Another story from this period, "Không có vua" ["Without a King"], is also highly celebrated. Phạm Thị Hoài remarked that, after Tướng Về Hưu, Vietnamese writers could no longer afford to write like before. Famous, he opened a popular restaurant, Hoa Ban, on a bank of the Red River in Hanoi. (Locals dub this the "Kiếm sắc" ["Sharp Sword"] restaurant, after the name of one of his stories. To "slash" is to overcharge in Vietnamese slang.)
Editions of his stories have appeared in French and English translations, including The General Retires and Other Stories (Oxford University Press, USA, 1993), translated by Greg Lockhart, and Crossing the River: Short Fiction by Nguyen Huy Thiep (Curbstone Press, 2002), edited by Dana Sachs and Nguyễn Nguyệt Cầm. He is also published in numerous anthologies, including one story in Night, Again: Contemporary Fiction from Vietnam (Seven Stories Press 1996), edited by Linh Dinh, who comments:
Often overlooked in the buzz surrounding Nguyễn Huy Thiệp--Vietnam's most influental writer--is his exceptional ear for the language. Thiệp's sophisticated yet earthy fiction is enlivened by many memorable phrases culled from ordinary speech [...] Considering the paucity of translated books in Vietnam, even after the easing of state censorship, Thiệp's eclectic reading list, as revealed in his own essays and interviews, is an index to the mental life of a contemporary Hanoi intellectual: all the great Vietnamese poets, from the 15th century Nguyễn Trãi to Nguyễn Du; Chinese modern fiction pioneer Lu Tsun; 1st century BC Chinese historian Si Ma Quan (in Phan Ngọc's translation); The Three Kingdoms; Dostoyevski; Gogol; Gorky; Maupassant; Camus; Goethe; Tagore; Neruda; the Bible. Western and overseas Vietnamese critics, in assessing his varied output, have tripped over each other delineating his affinities with experimental writers such as Borges, Eco and Rushdie, most of whom he has never heard of. Like Europeans discovering Modernism through African sculptures, Thiệp arrived at something like Post-Modernism through the goblin stories of Lĩnh Nam Chích Quái and lore of the Black Thai minority.
He also has four stories in Vietnam: A Traveler's Literary Companion, edited by John Balaban and Nguyễn Quí Đức. An interview of Nguyễn Huy Thiệp, conducted by Peter Zinoman and Nguyễn Nguyệt Cầm in 1996, translated into English by Linh Dinh, is published in the Journal of Vietnamese Studies (volume 1, no. 1-2).
Linh Dinh started this entry.
Works
Những ngọn gió Hua Tát [The Winds Of Hua Tat], stories (1989)
Tướng về hưu [The General Retires], stories (1989)
Tác phẩm và dư luận [Works and Critical Responses], stories with essays on him (1990)
Con gái thủy thần [The Water Nymph], stories (1992)
Xuân Hồng [Red Spring], a play (California: Tân Thư, 1994)
Như những ngọn gió [Like Gusts of Wind], a 732-page collected works, which includes a number of plays (1995)
Tuyển tập Nguyễn Huy Thiệp [Selected Works] (1996)
Tuổi hai mươi yêu dấu, novel
Tiểu long nữ, novel
Nguyễn Huy Thiệp online