Tien Ve
From Wikivietlit
Tiền Vệ
(2002), at <www.tienve.org>, is a literary webzine central to writers, especially poets and literary critics, both from within Viet Nam as well as from throughout the diaspora.

Published from Australia, it is primarily run by Hoàng Ngọc-Tuấn and Nguyễn Hưng Quốc. Also on the editorial board are Phạm Quang Tuấn, Nguyễn Hoàng Văn, Nguyễn Hoàng Tranh, Võ Quốc Linh and Tạ Duy Bình.
Linh Đinh wrote about Tiền Vệ in 2006:
"With the government controlling all media outlets, Vietnamese poets have gone online to publish and to read each other. A single website, Tien Ve, is responsible for this phenomenon. Established in 2002 by critic/writer Nguyen Hung Quoc and critic/writer/musician/translator Hoang Ngoc-Tuan, both living in Australia, Tien Ve is unique because its contents are updated daily. Each morning, I wake up to find new poems, stories and translations to read, some of them even my own, submitted a day or an hour earlier. This webzine is alive and growing in front of everyone's eyes, and the cross pollinations between these new works are amply evident. In a recent radio interview, Hoang Ngoc Tuan explains that his primary intention is to encourage experimentation, even if it means publishing imperfect poems, which are inevitable when real risks are taken. There is plenty of good to great stuff on here, however. Compared to the official verse culture in Vietnam, in which old men are browbeaten into penning puppy-love doggerel, where the more adventurous ones would insert a ghost or two into their stanzas to flaunt their "surrealist" credentials, Tien Ve kicks ass! Since it is practically the only literary forum in town, or, rather, the only game in the (Vietnamese) universe, many poets have chosen to use it as a repository for their entire oeuvre. With 1,043 writers in its archives, many of them international figures making their first appearance in Vietnamese, often without permission, of course—for Ossian's sake, don't sue this webzine—Tien Ve is an indispensable resource for Vietnamese readers and writers alike, their window into the world at large."
In January 2007,
Tuyển Tập Tiền Vệ 1
, a 626-page anthology featuring 69 poets, fiction writers and essayists, was published by Tiền Vệ.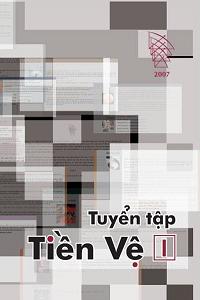 Linh Dinh started this entry.
Statement
TIEN VE is an online centre for the arts (including literature, music, visual and performing arts) whose principal activities are presenting new creative works and organizing debates on aesthetic and artistic issues. The main aim of TIEN VE is to contribute to the formation of a Commonwealth of Vietnamese Arts, where, regardless of geographical and political differences, everyone can join and share their endeavour in exploration and experimentation so that artistic creativity is reunited with its original meaning, namely, the making of the new.