Tran Dan
From Wikivietlit
Trần Dần
(1926-1997), as a novelist, first rallied intellectuals to war against the French, then as poet inspired them to critical resistance to Communist Party domination of public and intellectual life.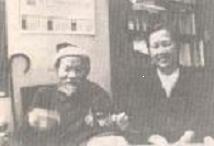 He was born in Nam Định and died in Hanoi. In 1946, he joined the Vietnamese Communist resistance against the French, but by 1953, had fallen out of favor with the Party. In 1956, he was jailed for three months in Hoả Lò Prison (better known to Americans as Hanoi Hilton), where he tried to commit suicide. In 1956-57, he was one of the key members of the dissident group Nhân Văn Giai Phẩm. During 1958-1960, he was condemned to hard labor for months at a time. From 1959 until 1988, he was banned from publishing, although he continued to write novels and poems. His poetry is among the most radical in the history of Vietnamese literature. Phạm Thị Hoài has edited a book of his journal entries Trần Dần – Ghi: 1954-1960 (Paris: TD Mémoire, 2001)
He is translated into English and included in the anthology, Black Dog, Black Night.
Linh Dinh started this entry.
Trần Dần online