Phong Bui
From Wikivietlit
Phong Bui
(1964) is a Vietnam-born American painter, installation artist, independent curator, critic, editor and publisher of the influential monthly journal
Brooklyn Rail
.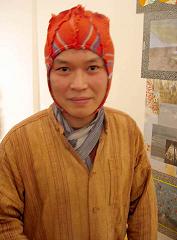 Bui was born in Hue, came to the United States in 1980, studied at the University of the Arts (at the same time as Linh Đinh) and at the New York Studio School, and now lives in Greenpoint, Brooklyn. His work has been in group exhibitions in Pierogi, Brooklyn Museum of Art, and the North Dakota Museum of Art. He has had solo exhibitions at Wooster Arts Space, New York (2006), Sarah Bowen Gallery, Brooklyn (2005), Sideshow, Brooklyn (2001), and University of the Arts, Philadelphia (2003). Bui has taught and lectured at Skowhegan School of Painting and Sculpture, Columbia University, Cooper Union, Parson School of Design. He has won an Arcadia Traveling Fellowship, a Hobenberg Traveling Fellowship, and a Pollock-Krasner Foundation Fellowship. In 2006, he was won both the Academy Award in Art, American Arts and Letters, and the Eric Isenbeurger Annual Prize for Installation, National Academy Museum.
In 1995, at The Brooklyn Ale House, a neighborhood watering hole in Williamsburg, Brooklyn, he introduced Linh Đinh to his future publisher, Dan Simon of Seven Stories Press. Hearing that Đinh was about to leave for Vietnam, Simon suggested that he gather material for an anthology on new Vietnamese fiction. The result was Night, Again.
Linh Dinh started this entry.
Phong Bui online