Lam Thi My Da
From Wikivietlit
Lâm Thị Mỹ Dạ (born 1949) is a poet.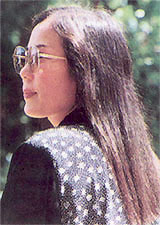 Born in Quảng Bình province, Lâm Thị Mỹ Dạ graduated from the Writer's College in 1983, and received a certificate for advanced studies in literature at Moscow's Gorky University in 1988. She has worked as a reporter and an editor, and serves as an Executive Board Member of the Vietnamese Writers' Association and Chairperson of the Thừa Thiên Huế Writers' Association. She currently lives and works in Huế, in central Viet Nam.
She has published five collections of poems: Trái tim sinh nở [The Fertile Heart] (1974), Bài thơ không năm tháng [Poem without Date] (1983), Hái tuổi em đầy tay [Gathering My Years] (1990), Mẹ và con [Mother and Child] (1994), and Để tặng một giấc mơ [Dedicated to a Dream] (1998). Translations of her poems appear in the anthology Six Vietnamese Poets (Curbstone, 2002), and Green Rice (Curbstone, 2005), a selection of her poetry translated by Martha Collins and Thuy Dinh.
Reference
Lâm Thị Mỹ Dạ online