Lily Hoang
From Wikivietlit
Lily Hoang
(1981) is a novelist. She was born in San Antonio, Texas to parents who had fled the Republic of Viet Nam in 1975.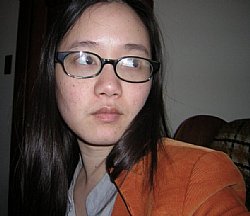 She earned an MFA from the University of Notre Dame in 2006 and teaches at St. Mary's College in Indiana. Her work has appeared in Black Warrior Review, Quarter After Eight, Fairy Tale Review, Action Yes, 5_Trope, and Harp & Altar. She is an associate editor of Starcherone Books.
Her manuscript for Parabola took first prize in the Chiasmus Press Un-Doing the Novel/First Book Contest in 2006 and Changing won the PEN/Beyond Margins book award in 2009. Parabola uses the well-known function, and Changing uses the hexagrams of I Ching, to show a family gone mad in the United States, recalling Nhat Linh's Doan tuyet (Rupture) from colonial Ha Noi.
Dan Duffy started this entry with review by Lily Hoang.
Lily Hoang in print
Invisible Women (StepSister Press, announced for 2010)
The Evolutionary Revolution (Les Figues Press, forthcoming 2009-10)
Parabola (Chiasmus, 2008)
Changing (Fairy Tale Review Press, 2008)
Lily Hoang online
Website
Fiction
Reviews
Interview
Ryan Call displays Lily Hoang's workspace in "Word Spaces" at <HTML Giant>, 2009
Ryan Manning interviews Lily Hoang at thunk: where interviews go to die, 2009
Jefferson Hansen interviews Lily Hoang at Experimental Fiction/Poetry /Jazz, August, 2008