Nhat Linh
From Wikivietlit
Nhất Linh
(1905-1963), real name Nguyễn Tường Tam, was a major fiction writer, journalist and politician.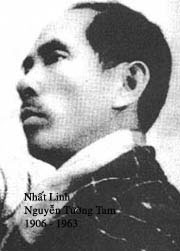 He was born in Hải Dương and died, by suicide, in Saigon. A founder of Tự Lực Văn Đoàn [Self-Reliance Literary Group], he was also the editor of the newspapers Phong Hóa and Ngày Nay. Active in politics, he founded the party Đại Việt Dân Chính Đảng, then became Secretary-General of Việt Nam Quốc Dân Đảng. An uncompromising nationalist, he opposed the French, Communists and government of Ngô Đình Diệm, who was about to put him on trial when he committed suicide by poison. He left behind this statement: "My life will be judged by history. I will not let anyone judge me. The arrest and harassment of the Nationalist opposition is a grave crime, and will lead to a Communist victory. I'm opposed to that and will destroy myself like the monk Thích Quảng Đức, who by burning himself issued a warning to those who has trampled on every liberty." Two of his brothers were also famous writers, Hoàng Đạo, real name Nguyễn Tường Long, and Thạch Lam, real name Nguyễn Tường Lân.
A book on him, Nhất Linh--Người Chiến Sĩ, Người Nghệ Sĩ [Nhất Linh--Fighter, Artist] (Thế Kỷ 21) LINK NOT FOUND AUGUST 2009 was released in 2004, with essays by many authors, including Võ Phiến. The image on the cover is a Nhất Linh drawing of Dalat.
Linh Dinh started this entry.
Works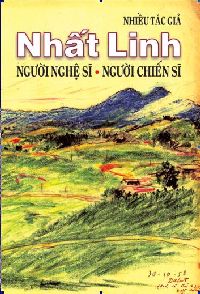 Nho phong, short stories (1924)
Người quay tơ, short stories (1926)
Anh phải sống, short stories (1932-33, written with Khái Hưng)
Đời mưa gió], novel (1933, written with Khái Hưng)
Gánh hàng hoa, novel (1934, written with Khái Hưng)
Nắng thu, novel (1934)
Đoạn tuyệt, novel (1934-35)
Đi Tây, travel (1935)
Hai buổi chiều vàng, short stories (1934-37)
Thế rồi một buổi chiều, short stories (1934-37)
Lạnh lùng, novel (1935-36)
Đôi bạn, novel (1936-37)
Bướm trắng, novel (1938-39)
Xóm cầu mới, novel (1949-57, unfinished)
Viết và đọc tiểu thuyết, critical (1952-61)
Giòng sông Thanh Thủy, a three-volume novel comprising of Ba người bộ hành, Chi bộ hai người and Vọng quốc (1960-61)
Thương chồng, short stories (1961)
Nhất Linh online