Dinh Tu Bich Thuy
From Wikivietlit
Đinh Từ Bích Thúy
(1962) is a bilingual literary and film critic, essayist, translator and fiction writer, publishing in English as Thuy Dinh.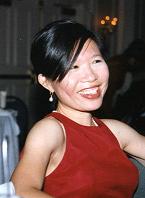 She was born in Saigon, left Vietnam in April of 1975, grew up in the Washington D.C. area, and is working as a lawyer at the Commodity Futures Trading Commission of the federal government. She received her bachelor's degree, with honors, in English and French literatures, from the University of Virginia, and a Doctor of Law from the same university.
Her essays have appeared in Vietnamese journals Thế Kỷ 21, Hợp Lưu and Da Màu, and American journals Manoa, Amerasia Journal and Rain Taxi Review. They include "Kẻ Lưu Đày và Đế Quốc," on Linh Đinh's short story collection, Fake House (Hợp Lưu 57), "Cyclo: Poetry of Discordant Force" (Washington DC's Asian American International Film Festival Catalogue, 1996), "The Scent of Green Papaya: Ambiguity of the Vietnamese Essence" (Amerasia Journal, Spring 1994) and "Luggage and Shoes" (Amerasia Journal, Fall 1991).
Her memoir, "Luggage and Shoes," is included in the anthology for high school students, Asian American Writers (Nextext: 2001); and in Once Upon A Dream: Twenty Years of the Vietnamese-American Experience (Andrews & McMeel: 1995).
With Martha Collins, she translated Cốm Non [Green Rice] by Lâm Thị Mỹ Dạ. Published by Curbstone Press, it was chosen as a Kiriyama Notable Book for 2006. Her translations are included in The Norton Anthology of World Poetry, edited by Tina Chang (Norton, 2007) and Children Poetry Inspired by Art Works from Around The Globe, edited by Jan Greenberg (Harry N. Abrams, Inc., 2008).
She is also an editor of the webzine Da Màu.
Linh Dinh started this entry.
Đinh Từ Bích Thúy online