Ho Xuan Huong
From Wikivietlit
Hồ Xuân Hương
(late 18th century-early 19th century) was a poet whose coy, often bawdy lyrics give her a unique position in Vietnamese literature.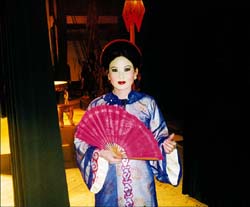 Her biographical details, like her poems, are ambiguous, but it is generally accepted that she was born in Nghệ An and died in Hà Nội. While opinions about her physical appearance differ from scholar to scholar (Professor Nguyễn Văn Hanh believed that Hồ Xuân Hương was a "plain, large-boned woman" shunned by frail, officious males, others thought she was petite, dark-skinned, and voluptuous), many agree that she had many male friends and lovers. The scholar Hoàng Xuân Hãn, in Hồ Xuân Hương: Poèmes, speculated that she was Nguyễn Du's lover from 1802 to 1805. Hoàng Xuân Hãn further asserted that Nguyễn Du's poem, Mộng Đắc Thái Liên (A Dream of Gathering Lotus) refers to Nguyễn Du's love affair with the young poetess when he was magistrate of Hưng Yên province. She was also believed to be the politically active and much-loved concubine of Trần Phúc Hiển, the governor of Yên Quảng Province. Her husband was executed during Emperor Gia Long's reign, in 1819, for accepting bribery.
Since Hồ Xuân Hương's poems were not collected and published until roughly 70 years after her death, her entire oeuvre, 139 poems by one count, had survived through oral transmission. The discovery of a batch of both Chinese and Nôm poems in 1964, in a collection called Lưu Hương Ký (Memoirs of Lingering Scent) traceable to the historical Hồ Xuân Hương, suggests that all of these other "Hồ Xuân Hương" poems are apocryphal, concocted by the masses, bastardized through circulation, or wrongly attributed to Hồ Xuân Hương when it should have been attributed to Lê Quý Đôn, Lê Thánh Tông, and Bà Huyện Thanh Quan. It shouldn't matter: the faux Hồ Xuân Huơngs still constitute a remarkable body of works, a tribute to both the real poet and rigor of the oral tradition. In short, we should not talk about Hồ Xuân Hương's poetry so much as "poems from the Hồ Xuân Hương tradition."
The textual variance in the original Hồ Xuân Hươngs becomes problematic through translation, and at the same time adds to the richness and ambiguity of this tradition. For example, in the poem Quan thị (Eunuch or Hermaphrodite), the last line in the original, "nghìn năm khỏi bị tiếng nương dâu," has been translated in English either as "[In a thousand years], you'll never be called a slut"--Linh Dinh's version), or "[In a hundred years], she'll never have to hear "daughter-in-law"--John Balaban's translation). The words nương dâu in Linh Dinh's Vietnamese version, which means "wild, lascivious behavior in someone's mulberry patch" appear as nàng dâu or "daughter-in-law" in John Balaban's original text.
It should be noted that Balaban even got the name of the poet wrong, translating "Xuân Hương" [Spring Fragrance] as "Spring Essence," which is the title of his collection of her poems. Hương is always "fragrance," most specifically the fragrance of a flower, and never "essence," which is "thực chất," "bản chất" or "tinh chất," all with "chất" [substance] in their construction. The most abstract definition is "cốt" or "cốt yếu," which is still not "hương" by any stretch of the imagination. (Perhaps Balaban was thinking of "incense"?) Invisible and bodiless, hương is not a substance or anything that produces the smell, but the smell itself. Hương is in fact a key word in the Vietnamese vocabulary and psychology. The Vietnamese word for homeland is "quê hương," which means "fragrance of home." Many Vietnamese restaurants worldwide are poignantly named "Hương Quê" or "Quê Hương."
Linh Dinh started this entry.
References
Nguyễn văn Hanh, Hồ Xuân Hương: Tác Phẩm, Thân Thế và Văn Tài (Ngày Nay, 1936)
Nguyễn Ngọc Bích, Hồ Xuân Hương Tác Phẩm (Tổ Hợp Miền Đông Hoa Kỳ, 2000)
John Balaban, Spring Essence: The Poetry of Hồ Xuân Hương (Copper Canyon Press: 2000).
For an in-depth look into the bibliographical confusions surrounding Hồ Xuân Hương, see Đào Thái Tôn's Thơ Hồ Xuân Hương: từ cội nguồn vào thế tục (Hanoi: Nhà xuất bản Giáo dục, 1995)
Hồ Xuân Hương online