Ly Lan
From Wikivietlit
Lý Lan
(1957) is a fiction writer for adults and children, also a poet and critic, by profession a teacher, journalist, screenwriter and translator most famous in Viet Nam for bringing the Harry Potter novels into Vietnamese more quickly than many adults can read them.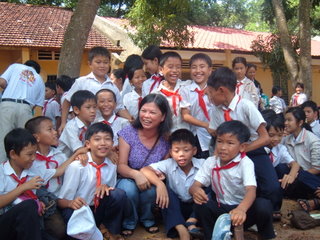 See Lily Chiu's introduction to Lý Lan's life and work, her interview with Lý Lan, and Jonathan Hill's biographical comic, all at the Lý Lan page at the Viet Nam Literature Project.
Dan Duffy started this entry, with information from Lily Chiu's bibliography and review by Ly Lan.
Lý Lan books
Adapted from Lily Chiu's Further Reading at the Viet Nam Literature Project Lý Lan page. Lý Lan provided new titles and Ngọc Hiếu Lưu Tường added diacritical marks.
Essays
Miên Man Tùy Bút, NXB Văn Nghệ, TpHCM (Freestyle Writing, Literature and the Arts Publishing House, Ho Chi Minh City), 2007
Self-Representation in Poetry by Vietnamese American Women Writers, M.A. thesis, English, Wake Forest University, May 2003.
Một Góc Phố Tàu (Truyện và Ký), Vương Trí Nhàn tuyển chọn và giới thiệu, NXB Văn Học, Hà Nội (A Corner of China Town (stories and accounts), selected with an introduction by Vuong Tri Nhan, Literature Publishing House), 2001
Sài Gòn Chợ Lớn Rong Chơi, NXB Văn Nghệ, TpHCM (Wandering through Sai Gon Cho Lon, personal essays, Literature and the Arts Publishing House, Ho Chi Minh City), 1999
Dặm Đường Lang Thang, NXB Văn Nghệ, TpHCM (Miles for Roaming, travelogue, Literature and the Arts Publishing House, Ho Chi Minh City), 1999
Khi Nhà Văn Khóc, NXB Văn Nghệ, TpHCM (When a Writer Cries, essays and criticism, Literature and the Arts Publishing House, Ho Chi Minh City), 1999
Fiction
Hội Xuân, NXB Văn Nghệ, TpHCM (Menopause, Literature and the Arts Publishing House, Ho Chi Minh City) 2009
Tiểu Thuyết Đàn Bà, NXB Văn Nghệ, TpHCM (Woman Novel, Literature and the Arts Publishing House, Ho Chi Minh City), 2008
Người Đàn Bà Kể Chuyện, NXB Văn Nghệ, TpHCM (A Woman Tells Stories, collection of short stories, Literature and the Arts Publishing House, Ho Chi Minh City), 2006
Bốn Cây Bút Nữ, NXB Văn Học, Hà Nội (Four Women Writers, anthology of short stories, Literature Publishing House), 2002
Quá Chén, NXB Văn Nghệ, TpHCM (One Drink Too Many, collection of short stories, Literature and the Arts Publishing House, Ho Chi Minh City), 2000
Dị Mộng, NXB Trẻ, TpHCM (Different Dreams, collection of short stories, Youth Publishing House, Ho Chi Minh City), 1999
Lê Mai, NXB Văn Nghệ, TpHCM (Le Mai, novel, Literature and the Arts Publishing House, Ho Chi Minh City), 1997
Đất Khách, NXB Văn Nghệ, TpHCM (Strangers' Land, short stories, Literature and the Arts Publishing House, Ho Chi Minh City), 1995
Chân Dung, NXB Văn Hóa, Hà Nội (Portraits, biographical novel, Culture Publishing House), 1994
Truyện: Lý Lan, Nguyễn Thị Minh Ngọc, Nguyễn Hải Chí, NXB Văn Nghệ, TpHCM (Stories, anthology of three authors, Literature and the Arts Publishing House, Ho Chi Minh City), 1992
Chiêm Bao Thấy Núi, NXB Trẻ, TpHCM (Seeing Mountain in Dreams, collection of short stories, Youth Publishing House, Ho Chi Minh City), 1991
Chút Lãng Mạn Trong Mưa, NXB Trẻ, TpHCM (A Bit of Romance in Rain, collection of short stories, Youth Publishing House, Ho Chi Minh City), 1987
Nơi Bình Yên Chim Hót, NXB Cà Mau, Cà Mau (A Peaceful Place for Birds Singing, novel, Ca Mau Publishing House), 1986
Cỏ Hát, NXB Tác Phẩm Mới, Hà Nội (Singing Grass, collection of short stories, New Works Publishing House. The title story, 'Singing Grass' won Best Short Story Award when first published in Van Nghe Tp Ho Chi Minh (Literature and the Arts Ho Chi Minh City in 1981.), 1983
For Children
Ba Người và Ba Con Vật, NXB Kim Đồng, Hà Nội (Three Kids And Three Pets, stories for *children, Pioneer Publishing House), 2002
Bí Mật Của Tôi Và Thằn Lằn Đen, NXB Trẻ, TpHCM (The Secret between Me and the Black Lizard, story for children, Youth Publishing House, Ho Chi Minh City), 1996
Mưa Chuồn Chuồn, NXB Kim Đồng, Hà Nội (Dragonfly Rain, story for children, Pioneer Publishing House), 1993
Những Người Lớn, NXB Kim Đồng, Hà Nội (The Grown-ups, stories for children, Pioneer Publishing House), 1992
Hội Lồng Đèn, NXB Kim Đồng, Hà Nội (Lanterns Festival, stories for children, Pioneer Publishing House), 1991
Ngôi Nhà Trong Cỏ, NXB Kim Đồng, Hà Nội (A Home in Grass, stories for children, Pioneer Publishing House. Awarded the Best Book for Children, and republished in 2002), 1984
Poetry
Là Mình, NXB Văn Nghệ, TpHCM ([incomplete phrase of "to be" and "self"], poems, Literature and the Arts Publishing House, Ho Chi Minh City), 2005
Quán Bạn, NXB Tre, TpHCMC (Friendship Inn, selected poems, Youth Publishing House, Ho Chi Minh City), 2001
Thơ: Lý Lan, Lưu Thị Lương, Thanh Nguyên, NXB Văn Nghệ, TpHCM, NXB Van Nghe, TpHCM (Poems, anthology of three authors, Literature and the Arts Publishing House, Ho Chi Minh City), 2001