Jonathan Hill
From Wikivietlit
Jonathan Hill is the pen name of Jonathan David Hanh Vu Hill, a cartoonist in Portland, Oregon.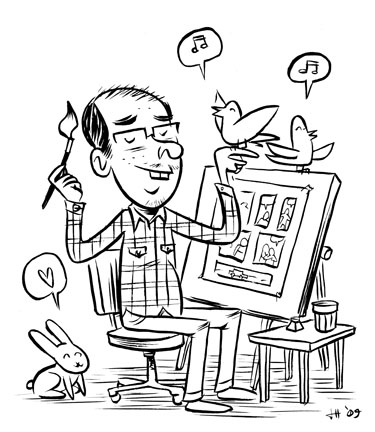 He has been staff illustrator for Portland's Asian Reporter since 2007, often free-lancing to Willamette Week since January of this year, 2009. The 2003 valedictorian of the Savannah College of Art & Design, with a degree in Sequential Art, he has freelanced as an illustrator and cartoonist for Hollywood Entertainment, Hyphen Magazine, mun2, Portland Mercury, Psilo Design, Seattle Metropolitan, Tugboat Press, and Viet Nam Literature Project. He has published original work with Fantagraphics, Image Comics, and Three Rivers. His work with MK Reed on "Americus" in the anthology Papercutter was nominated for an Ignatz Award for best story and will be published by First Second Books in 2012.
His mother is the historian Kimloan Thu Vi Hill.
Dan Duffy started this entry with review by Jonathan Hill.
Jonathan Hill in print
Jonathan Hill online
Website
Studio
Garments
Reviews & Mentions
Viet Nam Literature Comics