Nguyen Huu Dang
From Wikivietlit
Nguyễn Hữu Đang
(1913-2007), originally a journalist, spent most of his adult life in custody.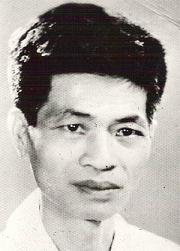 He was born in Kiến Xương District, Thái Bình and died in Hanoi. At 16, he was jailed for the first time for his anti-French activities, tortured, then released after 2 1/2 months. He joined with Nguyễn Văn Tố and most of the scholars and writers of the time to found the Society for the Dissemination of the National Language (Hội Truyền Bá Quốc Ngữ) in 1938, to wipe out illiteracy. He also played an active role in youth affairs and founded the Vietnamese Boy Scouts (Hướng Đạo Sinh Việt Nam) in 1943.
He joined the Viet Minh in 1946 and the Communist Party in 1947, but broke from the Party in 1951. He was one of the first leaders to point out errors committed in the northern land reform campaign of 1954.
He was the editor of the journal Văn Nghệ from 1954 to 1958, and in 1956 became editor of Giai Phẩm (Belles Lettres), now remembered for the famous Nhân Văn Giai Phẩm dissident movement. Arrested in 1958, accused of spying for France, he was jailed for 15 years in solitary confinement, then kept under special surveillance for 20 more years. Imprisoned from 1960 until 1973 in Hà Giang, near the Chinese border, he didn't even know that Ha Noi was at war with the United States. Only in the 1990s was his case reversed and his privileges restored.
Linh Dinh started this entry. Eric Henry contributed further information.
Essays
Nguyễn Hữu Đang online