Pham Cong Thien
From Wikivietlit
Phạm Công Thiện
(1941) is a poet, scholar, essayist and translator.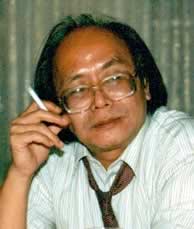 He was born in Mỹ Tho, left Vietnam in 1970, lived in Israel, Germany and France before settling in Los Angeles in 1983, with frequent trips to Australia. He has written extensively on philosophy and Buddhism.
Linh Dinh started this entry.
Works
Tiểu Luận Về Bồ Ðề Ðạt Ma, tổ sư Thiền Tông (1964)
Ngày Sinh Nhật Của Rắn (1967)
Trời Tháng Tư (1966)
Im Lặng Hố Thẳm (1967)
Hố Thẳm Của Tư Tưởng (1967)
Bay Ði Những cơn Mưa Phùn (1970)
Ði Cho Hết Một Ðêm Hoang Vu Trên Mặt Ðất (1988)
Sự Chuyển Ðộng Toàn Diện Của Tâm Thức Trong Tư Tưởng Phật Giáo (1994)
Triết Lý Việt Nam Về Sự Vượt Biên (1995)
Làm Thế Nào Ðể Trở Thành Một Bậc Bồ Tát
Sáng Rực Khắp Bốn Phương Trời (1998)
Tinh Tuý Trong Sáng Của Ðạo Lý Phật Giáo (1998)
Trên Tất Cả Ðỉnh Cao Là Im Lặng
Một Ðêm Siêu Hình Với Hàn Mặc Tử
Khai Ngôn Cho Một Câu Hỏi Dễ Hiểu: Triết Học Là Gì?
Ðối Mặt Với 1000 Năm Cô Ðơn của Nietzche.
Phạm Công Thiện online