Pham Van Ky
From Wikivietlit
Phạm Văn Ký
(1910-1992) was a bilingual author, writing in Vietnamese and French. He is best known for his French novels.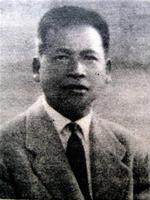 He was born in Bình Định, one of thirteen children, and received his secondary education in either Saigon (according to Nguyễn Vỹ) or Hanoi (according to Jack A. Yeager). Around 1936, he was awarded a Premier prix de Poésie aux Jeux Floraux d'Indochine for a collection of poems written in French, Une voix sur la voie, influenced by Mallarmé and the Surrealists. These poems were generally ignored by other Vietnamese poets and the reading public. He was also the first to write an introduction for poet Hàn Mặc Tử's famous collection, Gái quê (1936). He became the editor for several French newspapers in Bình Định, Huế and Saigon, such as Impartial and Gazette de Hue, before emigrating to France in 1938, where he studied at the Sorbonne but never completed his doctorate because of World War II and the death of his director of dissertation. He worked for a radio station, married a German actress, divorced, wrote poems, novels and plays. In 1970, as the Vietnam War was raging, he returned to Hanoi for the first time and considered staying on, but was advised by his good friend, North Vietnamese Prime Minister Phạm Văn Đồng, to go back to France. He died in Paris.
Karl Ashoka Britto describes Phạm Văn Ký's novel, Des Femmes assises çà et là, as "an intricate interior monologue related by a Vietnamese man living in Paris, this novel explores the ambiguous and often unsettling condition of the immigrant intellectual. The unnamed narrator finds himself caught between two cultures, between his obsessive attachments to three French women (one of whom, the young Eliane, is dying of leukemia), and his filial duty toward his mother, who near the beginning of the novel sends him a telegram from Viet Nam stating simply, "j'attends pour mourir." Pham Van Ky's text raises a number of troubling questions, many of which are left unanswered as the narrator's voice gradually gives way to that of the dead Eliane, whose letters—unfinished as they are—close the novel."
His works have been translated into Italian, German, English and Vietnamese.
Works in Vietnamese
Kiếm hoa, novel
Con đường thiên lý số 1, novel (unpublished)
Đường về nước, poetry
Works in French
Une voix sur la voie, poetry (Hanoi, 1936?)
Fleur de Jade, poetry (1943)
Frères de sang (Paris: Editions du Seuil, 1947), novel; translated into English by Margaret Mauldon as Blood Brothers (New Haven: Yale Southeast Asia Studies], 1987)
Les Yeux courroucés (Paris: Gallimard, 1958), novel
Les Contemporains (Paris: Gallimard, 1959), novel
Perdre la demeure (Paris: Gallimard, 1961), novel, winner of the Grand Prix du Roman from the Académie française, 1961; translated by Phạm Văn Ba into Vietnamese as Mất nơi ở (Hanoi: NXB Hội Nhà Văn, 2006)
Poèmes sur soie, poetry (1961)
Des Femmes assises çà et là, (Paris: Gallimard, 1964), novel
Le Rideau de pluie, drama (1974)
Danse avant l'Aube, a "ballet-poème"
References
Littérature francophone: Anthologie, edited by Jean-Louis Joubert (Paris: Nathan, 1992)
The Vietnamese Novel in French: A Literary Response to Colonialism by Jack A. Yeager (Hanover, NH: University Press of New England, 1987)
Văn-thi-sĩ tiền-chiến by Nguyễn Vỹ (Saigon: Khai Trí 1969)
Phạm Văn Ký online