Han Mac Tu
From Wikivietlit
Hàn Mặc Tử
(1912-1940), real name Nguyễn Trọng Trí, was a poet and playwright.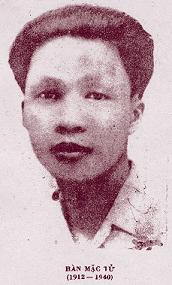 He was born in Quảng Bình, worked as journalist in Saigon, and died in Qui Nhơn. Beside Hàn Mặc Tử, he also published as Minh Duệ Thị, Phong Trần and Lệ Thanh. Born into a poor family, he died of leprosy in 1940. Still popular today, he's known for his poems about the beauty of nature and romantic love. A Christian, he also wrote poems with religious and mystical overtones.
In 2004, a film was made about his life by Ho Chi Minh City Television. Trần Thiện Thanh wrote a song about him, Phạm Duy wrote a song cycles based on his poems, and in 2006, Director Lê Hùng mounted an ambitious play about Hàn Mặc Tử, "100 phút cuối cùng của Hàn Mặc Tử" ["The 100 last minutes of Hàn Mặc Tử"]. Experimental in nature, it was also noted for its ticket price, 50 USD at its Saigon premier.
Hai-Dang Phan started this entry.
Works
Gái Quê, poetry (1936)
Thơ Hàn Mặc Tử, poetry (1957)
Ðau Thương, poetry, comprised of four volumes:
-Hương Thơm
-Mật đắng
-Máu Cuồng
-Hồn Ðiên
Xuân Như Ý, drama
Thương Thanh Hĩ, drama
Cẩm Châu Duyên, drama
Duyên Kỳ Ngộ, drama
Quần Tiên Hội, drama
Chơi Giữa Mùa Trăng, prose
Hàn Mặc Tử online