Pham Duy
From Wikivietlit
Phạm Duy
(1921), real name Phạm Duy Cẩn, is Vietnam's most prolific songwriter and lyricist.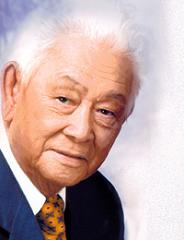 Born on October 5, 1921 in Hà Nội, by Sword Lake, he was the youngest son of the early 20th century journalist, reformer, and fiction writer Phạm Duy Tốn, and younger brother of francophone writer Phạm Duy Khiêm. He wrote his first song, "Cô Hái Mơ" ["The Young Lass Picking Apricots"], in 1942 while still an amateur singer and guitarist.
He got his professional start early in 1944 when he joined the "Gánh Đức Huy Charlot Miều," a cải lương opera troupe. He toured the length and breadth of the country for two years with this troupe, entertaining audiences as a between-acts singer of tân nhạc or "new music," while in the meantime gaining a familiarity with the folk music of every region he passed through.
In 1946 he joined the Viet Minh resistance, first as a guerilla fighter and then as a member of various arts units whose mission was to entertain and inspire the soldiers. In this period he wrote patriotic songs, such as "Xuất Quân" ["Bringing Out the Troops"], songs in folk style, such as "Ru Con" ["Lullaby"], and songs of romantic yearning, such as "Bên Cầu Biên Giới" ["By the Border Bridge"]. These songs all achieved instant popularity.
It was in this period also that he met and married the singer and actress Thái Hằng (the sister of the song-writer Phạm Đình Chương and the singer Thái Thanh), with whom he had eight children, six of whom, Duy Quang, Duy Minh, Duy Hùng, Duy Cường, Thái Hiền, and Thái Thảo, became well-known musicians in their own right.
With much regret, he left the Việt Minh at the end of 1950 to escape ideological control, and settled in Sài Gòn early in 1951. Toward the end of 1951, he and two other musicians, Trần Văn Trạch, and Lê Thương, were arrested and confined to a cell in the Catinat prison for 120 days. Some jealous musicians with police connections had accused them of being Việt Minh sympathizers.
For the next twenty-four years he dominated the musical scene in the south. He was instrumental in establishing the Thăng Long singers, perhaps the most professional of the many performance groups that appeared in the south in this era. He excelled both in writing lyrics and in setting poems written by others, such as the unforgettable "Ngày Xưa Hoàng Thị" by Phạm Thiên Thư. He was active in film-making in the 50s and 60s; and in the 60s did much to promote public awareness of indigenous folk music. In the late 1960s, he spearheaded the Du Ca or "Troubadour" movement, the aim of which was to combat commercialism in popular music by involving college students in the creation and performance of songs.
Over the course of his career, he made hundreds foreign songs available to Vietnamese audiences by providing them with sets of Vietnamese lyrics. He escaped to U.S. in 1975, just before the fall of the south, and, after about two years in Florida, settled in Midway City, California, next to Little Saigon. An especially inventive and ambitious composer, he is the author of about two dozen song-cycles on varied themes, each bound up in some way with the culture, history, or fate of Việt Nam. Two of the most well-known of these are "Con Đường Cái Quan" ["The Mandarin Road"] and "Mẹ Việt Nam" ["Mothers of Vietnam"]. He also wrote about the devastations of the war, as in the song
"Kỷ Vật Cho Em"
["Mementos for You"], about a soldier's possible death or maimings.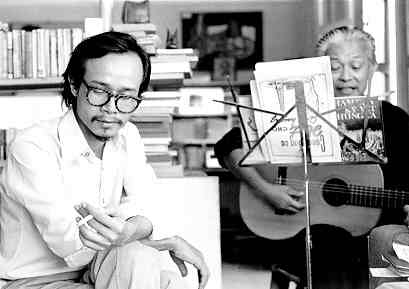 Subsequent to 1975, he wrote several dozen songs reflecting the refugee experience, as well as song cycles based on the poems of Hoàng Cầm (a close friend from his days with the Viet Minh), Nguyễn Chí Thiện, and Hàn Mặc Tử. In the late 1990s he began writing "Minh Hoạ Kiều" ["Illustrations of Kiều"] using excerpts from Nguyễn Du's celebrated poem as texts. Throughout the period from 1975 to 1999, he went on many international tours as a lecturer, singer, and guitarist to promote his song cycles.
In 2000, at the age of 79, he began making return trips to Việt Nam, where he was warmly welcomed everywhere by private people and government figures, though the Vietnamese socialist regime had banned the public performance of his music ever since 1975. In May, 2005, he returned to Vietnam for good, and the government began the process of lifting restrictions on the performance of his music. He is the author of a four-volume set of memoirs, a guitar method, and numerous articles and book-length studies on musical topics, including (in English) Musics of Vietnam (Southern Illinois University Press, 1975).
Eric Henry started this entry.
Phạm Duy online