Trinh Cong Son
From Wikivietlit
Trịnh Công Sơn
(1939-2001) was a song writer, musician, poet and painter.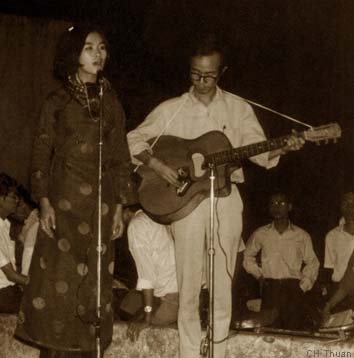 He was born in Daklak, grew up in Huế, studied in Qui Nhơn, taught school in Bảo Lộc, then finally moved to Saigon in 1965. A heavy drinker and smoker, he died of diabetes, liver and kidney failure. He wrote over 600 songs, achieving his first hit, "Ướt mi" ["Wet Lashes"], in 1957. Joan Baez dubbed him the Bob Dylan of Vietnam. He often wrote about the ephemeral nature of life, as in the classic "Cát bụi" ["Sand and Dust"]. The singer most associated with him is Khánh Ly, whose husky, mournful voice helped to popularize his music. They often performed together on South Vietnamese university campuses. More recently, Hồng Nhung has also been celebrated for her jazzy interpretions of his songs. Along with Lou Reed, Arab Strap and The Married Monk, his music is featured on Trần Anh Hùng's film Vertical Ray of the Sun (2001).
In 1973, he starred in a film, Đất Khổ [Land of Sorrows], which compressed three seminal events of the Vietnam War: (1) the Buddhist uprising in Hue during 1965; (2) the Tet Offensive in 1968; and (3) the 1972 "Summer of Fire" (mùa hè đỏ lửa). It includes real footage of refugees fleeing the North Vietnamese' Easter Offensive of 1972. Steven Hunter of the Washington Post comments:
"A fictional family melodrama [...] it follows the course of the war as it implodes the life of five members of a family in Hue, including a draft dodger and a ranger captain. Those explosions in the background? Well, let's put it this way -- special effects courtesy of the North Vietnamese regular army."
This film--the only one ever directed by Hà Thúc Cần, a cameraman previously with CBS, now an art dealer with a gallery in Singapore--had its first commercial showing at Paris' Orient Theater in 1980 and its first US showing in the Fall of 1996 at the American Film Institute's Kennedy Center location in Washington D.C.; then at The University of Maryland and George Mason University as part of the Asian American International Film Festival that Đinh Từ Bích Thúy coordinated for the Greater Washington D.C. area. Đất Khổ was banned in South Vietnam before 1975 and in all of Vietnam since.
Linh Dinh started this entry.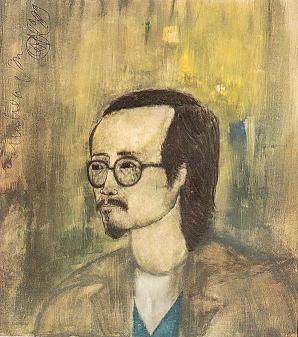 Trịnh Công Sơn online