Dinh Hung
From Wikivietlit
Đinh Hùng
(1920-1967) was a poet and fiction writer.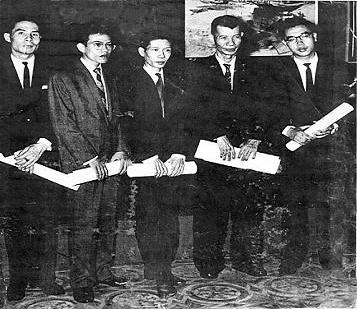 He was born in Hà Đông (now called Hà Sơn Bình), went to Saigon in 1954, where he founded the newspaper Tự Do [Freedom]. He died there in 1967 of stomach cancer. He often relied on opium for inspiration and was influenced by the French symbolists. Often bizarre yet elegant, with titles like Nightmare and Savage Song, his poetry is admired by many, ridiculed by others.
In 1941, his mentor, Thế Lữ, inserted a Đinh Hùng poem, "Kỳ nữ", into a novella, Trại Bồ tùng linh. This poem caused a sensation, launching his reputation. He used the pen name Thần Đăng for satirical verses, and Hoài Điệp Thứ Lang for his novels. A few of his poems were put to music, such as the classic "Chiều Tím" ["Purple Evening"] by the composer Đan Thọ, and "Mộng Dưới Hoa" ["Dreaming Beneath Flowers"] by Phạm Đình Chương.
Linh Dinh started this entry.
Works
Mê hồn ca, poetry (1954)
Đường vào tình sử, poetry (1961), awarded South Vietnam's National Prize for 1962
Ngày Ðó Có Em, poetry
Ðốt Lò Hương Cũ, poetry
Cô gái gò Ôn Khâu, historical novel
Người đao phủ thành Đại La, novel
Cánh tay hào kiệt, Phan Thanh Giản, drama
Đinh Hùng online