Nhat Tien
From Wikivietlit
Nhật Tiến
(1936), real name Bùi Nhật Tiến, is a fiction writer.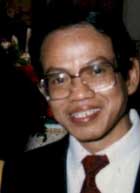 He was born in Hanoi, went to Saigon in 1954, escaped Vietnam by boat in 1979, arriving in Thailand, then immigrated to the US in 1981. In Saigon, he founded the publishing house Huyền Trân, and the magazine for children, Thiếu Nhi. In 1972, his Thềm hoang won South Vietnam's National Prize for the Novel. He has published over 30 books, including Những Người Áo Trắng (1959), Những Vì Sao Lạc (1960), Thềm Hoang (1961), Mây Hoàng Hôn (1962), Người Kéo Màn (1962), Ánh Sáng Công Viên (1963), Chuyện Bé Phượng (1964), Vách Ðá Cheo Leo (1965), Chim Hót Trong Lồng(1966), Giọt Lệ Ðen (1968), Tay Ngọc (1968), Lá Chúc Thư (1969) and Quê Nhà Yêu Dấu (1970).
Along with Nguyễn Mộng Giác, Hà Thúc Sinh, Nguyễn Ngọc Ngạn and others, he has a story in To Be Made Over: Tales of Socialist Reeducation in Vietnam, translated into English by Huỳnh Sanh Thông. Another story, translated into English by James Banerian, is included in the anthology, Vietnamese Short Stories: An Introduction (Phoenix: Sphinx 1985).
Nhật Tiến online