Ha Thuc Sinh
From Wikivietlit
Hà Thúc Sinh
(1943) , real name Phạm Vĩnh Xuân, is a poet, fiction writer, memoirist, editor, translator and song writer.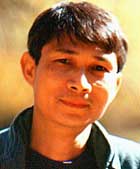 He was born in in Thanh Hoá, went South in 1954, served in the Navy of the Republic of Vietnam, was imprisoned for five years after 1975, escaped to Malaysia by boat in 1980 and in 1981 emigrated to the US where he settled in southern California.
Along with Nhật Tiến, Nguyễn Mộng Giác, Nguyễn Ngọc Ngạn and others, he has a story in To Be Made Over: Tales of Socialist Reeducation in Vietnam, translated into English by Huỳnh Sanh Thông. His Đại Học Máu [Blood U.] is considered a classic prison memoir. He has also recorded two cassettes of songs.
Linh Dinh started this entry.
Works
Trí Nhớ Ðau Thương, poetry (1967)
Ðá Vàng, poetry (1969)
Tuyển Tập truyện Âu Châu, an anthology of European fiction (1970)
Ðiệu Buồn Chúng Ta, poetry (1972)
Dạo Núi Mình Ta, poetry (1972)
Tình Em Vỗ Cánh, translation (1973)
Nàng Nô Lệ, translation (1973)
Trận Chiến Trong Thành Phố, translation (1973)
Cát Bụi Trần Gian, translation (1974)
Kiếp Người Cô Quạnh, translation (1974)
Ðại Học Máu, memoir (1985)
Vầng Thái Quê Nhà, translation (1988)
Thơ Viết Giữa Ðường, poetry (1988)
Chị Em, a novel (1988)
Ông H.O., short stories (1993)
Cố Hương, short stories (1994)
Dưa Cà Mắm Muối, short stories (1996)
Về, short stories (1966)
Ðêm Hè, short stories (1997)
Hà Thúc Sinh online