Phan Nhat Nam
From Wikivietlit
Phan Nhật Nam (1943) is a writer, known as South Vietnam's most famous war reporter.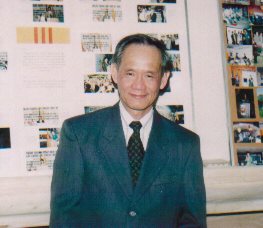 Born in Hue, he was raised by his mother when his father joined the Viet Minh in 1950. His mother died the year he graduated from high school in Da Nang and at the age of 18, he entered the National Military Academy in Dalat. He served as a Captain in the South Vietnamese Airborne Division, Officer in the Tactical Operation Center in Phước Tuy and Long An Province, and in 1973 during the Paris Agreement, he served as Secretary to the Joint Military Committee, which was responsible for negotiating the POW exchange. After 1975, he was imprisoned for fourteen years in various communist "reeducation camps" in Northern and Southern Vietnam. After being released from prison, he eventually resettled in the U.S., where he continues to live and write.
In "The Reportage" section of Literature in South Vietnam, Võ Phiến has this to say about Phan Nhật Nam and the "violent, stormy style" of his writing:
Southern Ký writings have been nothing but straightforward, open and proud works. No one laid guidelines, and gave orders to Phan Nhật Nam, for instance, to meet, and live with anyone in order to write. What happened was Phan took advantage of the time he had to spend in a stockade (Phan Nhật Nam was an army officer known for his honesty and...insubordination to higher-ups whom he despised) and simply wrote Dọc đường số 1 (Along Route 1). He wrote because after eight years in the army and in the war "what I have seen and heard has had such an effect on my mind and soul that I cannot help writing it all down". "So, what I can do is to write (but ký). To write as a kind of prayer in the darkest loneliness, to write so that the tears may pour out from behind my clenched teeth and my dried out lips. I write (bút ký) as I have sighed in despair night after night."
Phan Nhật Nam is the subject of an article by John C. Shafer, published in Crossroads, Volume 13:2 (1999), "Phan Nhat Nam and the battle of An Loc and An Loc: The Unquiet East," which focuses on translated excerpts from Phan Nhat Nam's Fiery Red Summer, an account of the Spring Offensive of 1972. The introductory essay provides background on the offensive and suggests why it and the battle for An Lộc, arguably the most important of the Vietnam War, have received little attention from U.S. historians. The translated excerpts from Fiery Red Summer that follow describe how the 6th Battalion of the 1st Airborne Brigade of the Army of the Republic of Vietnam fought bravely to link up with troops defending An Lộc, thereby helping to break the communist siege of the town.
Hai-Dang Phan started this entry.
Works 1968-1975
Dấu Binh Lửa [Trace of War], Đai Ngã, 1969; Hiện Đại, 1973.
Dọc Đường Số 1 [Along Highway 1], Đại Ngã, 1970.
Ải Trần Gian [The Gate of Life on Earth], Đại Ngã, 1971
Dựa Lưng Nỗi Chết [Leaning on Death], Đại Ngã, 1972; Hiện Đại, 1973.
Mùa Hè Đỏ Lửa [Fiery Red Summer], Sáng Tạo, 1972; Reedited by Hiên Đại, 1973.
Tù Binh va Hòa Bình [Peace and Prisoner of War], Hiện Đại, 1974.
Works 1988-present
Reference
Phan Nhat Nam. The Stories Must Be Told. Westminster, CA: Nắng Mới, 2002.
Vo Phien. Literature in South Vietnam, 1954-1975. Melbourne: Vietnamese Literature & Culture Publications, 1992.
Phan Nhật Nam online